Moves to scupper housing blueprint
Reporter: Lucy Kenderdine
Date published: 12 January 2017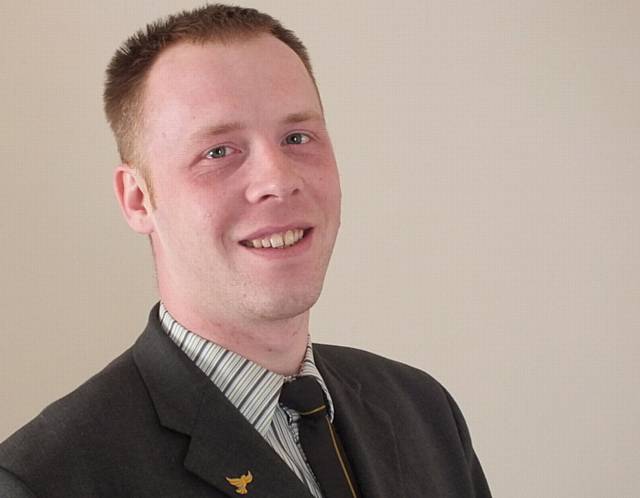 LOOKING at every option . . . Shaun Duffy
A SHAW and Crompton parish councillor says they should be looking at every option, in a bid to stop hundreds of homes being built on greenbelt land in the area.

Parish councillor Shaun Duffy proposed a motion at the authority's full council meeting, urging the organisation to examine how Oldham could withdraw from the Greater Manchester Spatial Framework (GMSF).

Protest

He said he hopes councillors could replicate a motion which was proposed at Stockport Council in December, where Lib Dems tabled an amendment to Stockport's local housing plan and called for the borough to pull out of the GMSF in protest at proposals for nearly 20,000 new homes to be built using nine per cent of the borough's greenbelt.

Although the motion failed, it reflected the anger and views of many Stockport residents in regards to the greenbelt proposals.

Many of these views are shared by Oldham residents who are protesting plans for 13,700 new homes in Oldham being spread across a variety of green space and other protected land in the area including Hanging Chadder, Broadbent Moss, Beal Valley, Cowlishaw, Burnedge and around Dovestone in Greenfield.

Lib Dem councillor Duffy said: "As a parish council, we should look at every option available to us to stop the GMSF and the building of homes on greenbelt land.

"In the proposals, it seems like Shaw and Crompton have been targeted for development as building on green areas is cheaper and more attractive.

"I understand the need for new housing and social housing in Oldham, however there are acres of brownfield sites still available, including former mill sites.

"It is only when these sites have been exhausted and a housing demand remains that we should consider building on greenbelt."

Cllr Duffy urged the Shaw and Crompton council clerk to research the steps taken to bring the amendment to Stockport's full council agenda, with the aim of proposing a similar motion at Oldham Council's next full council meeting.

He said: "The next full council meeting will be after the consultation deadline passes, however it is important we act and try to stop our greenbelt from being destroyed."

The public consultation on the plans is open at bit.ly/2j7rW6C and will remain so until 11.59pm on Monday, January 16.

You can also have your say by tweeting @GM Spatialframe or emailing GMSF@agma.gov.uk

Written submissions can also be sent by post to: Greater Manchester Integrated Support Team, PO Box 532, Town Hall, Manchester M60 2LA.