How Millie's dream became life-changing
Reporter: Gillian Potts
Date published: 20 January 2017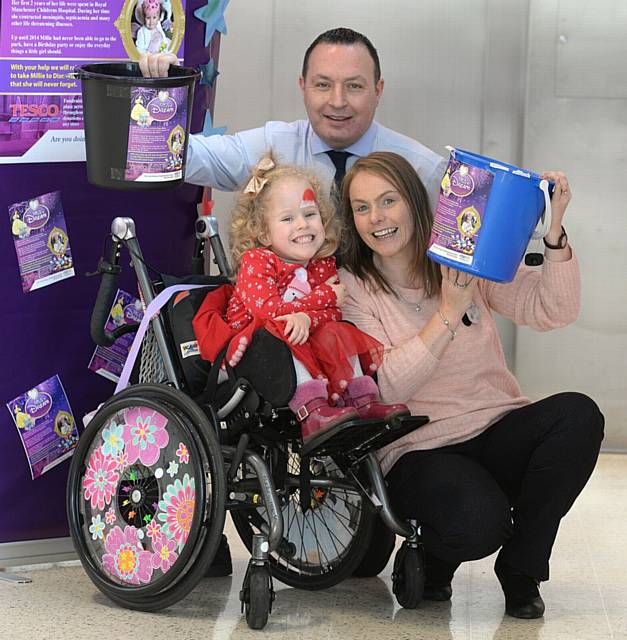 THANKS . . . Millie Moran with Tesco Oldham Extra, store manager Andrew Brown and customer experience manager Angela Mullarkey
IT started with a dream to send a little girl on the trip of a lifetime.

But the appeal to send Millie Moran to Disney World in Florida was embraced by so many kind-hearted people the end result has also become life-changing.

After Tesco staged a fantastic fundraising drive in their stores before Christmas, raising an incredible £17,500, the five-year-old - who was born with a rare form of spina bifida and hydrocephalus and suffers from a potentially life-threatening lung disease - is just days away from being able to live life more independently.

Thanks to thousands of Oldhamers and Tesco shoppers throughout Greater Manchester, Millie's family have been able to grant her another wish - a motorised wheelchair which means she'll be able to get about much more easily and enjoy a freedom she's never experienced before.

Millie's new wheels have been specially designed by mobility specialists, Millercare, in Oldham, and are currently being manufactured to suit her needs and specifications.

Her gran, Vicky Shaw, who started the fundraising crusade last year, said her granddaughter was thrilled to try out the wheelchair when she test drove one in the playground of her school, Blackshaw Lane primary. Vicky told us: "She absolutely loved it and she said to me, "Nanna, that's going to be my new legs. I'm going to be bazzin' about in my chair soon!".

"They asked her what colour she'd like and she decided on red so it will be black with red mud guards.

"It will be amazing for Millie. It will give her a new lease of life, especially at school. It will also grow with her and last her until she's about 11.

"All this is thanks to everyone who gave so generously and believed in Millie's dream."

Almost £25,000 was raised, including contributions from events held in the borough.

The family are waiting for Royal Manchester Children's Hospital specialists to give Millie the all-clear to fly to Florida on a 10-day trip to meet her Disney idols in May or June.

Vicky said the rest of the money is being kept in a fund to help pay for anything else she needs to make life better.