Super scout to the rescue
Reporter: Rosalyn Roden
Date published: 20 January 2017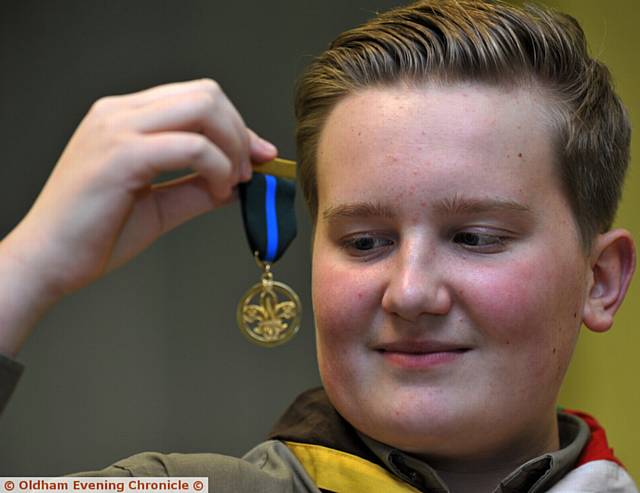 SCOUT hero . . . Ethan Curley admires his medal
A TEENAGE superhero in a Batman T-shirt has been awarded a prestigious medal after saving a toddler's life.

Ethan Curley, from Waterhead, received the Award for Meritorious Conduct from the Mayor of Oldham at a surprise ceremony.

The Blue Coat School pupil (15) rushed to the aid of a two-year-old girl who is understood to have had a seizure while on a family outing to a local farm. Aptly wearing his Batman T-shirt for what turned out to be a superhero-themed day, Ethan offered guidance, spoke to paramedics and helped explain how to conduct CPR to the family.

Oldham Mayor, Councillor Derek Heffernan, presented Ethan with his medal in the presence of friends and family.

He also received a signed letter from Britain's official Chief Scout Bear Grylls.

Mum Joanna McKenna (42) said: "I was extremely proud of him. I think Ethan was a bit shocked to receive the award because it was a big surprise. It was a brilliant thing for someone of such a young age to do.

"The girl had come round by the time the ambulance arrived but was taken to A&E.

"The family were grateful and thankful to Ethan and others who helped at the time."

Ethan was volunteering at the Ashton-based farm in August when the incident happened. He helped and assisted the mum and grandma of the girl who had been visiting a play centre.

The quick-thinking teenager put his scouting skills into practice, instructing family to lie the girl down on the floor so she was on a flat surface.

He supported the grandma to give CPR. Ethan also took control during the ambulance call and calmly explained the situation to paramedics.

Joanna said: "Ethan said it was scary to see the little girl like that. He was a bit quiet after it happened because I think he realised what could have happened if anything had gone wrong.

"I was very proud of him for staying calm and helping in the situation.

"I think at 15 I would be panicking even just phoning an ambulance to give details."

Ethan has attended 7th Oldham Leesfield Scout Group every week since he was eight. He recently became a young leader and helps teach children in the beavers, cubs and scouts groups.

Oldham Scout district commissioner David Hamilton said: "There are a limited number of leaders who receive these awards but they are very far and few between.

"I have never known anyone to receive one in our district in the 13 years I have been scouting.

"They are very special and highlight the real diligence that Ethan showed. Ethan took control of the situation which is something we try and instil in them. He was exemplary."