MP hits out over funding shortfall
Reporter: Iram Ramzan
Date published: 23 January 2017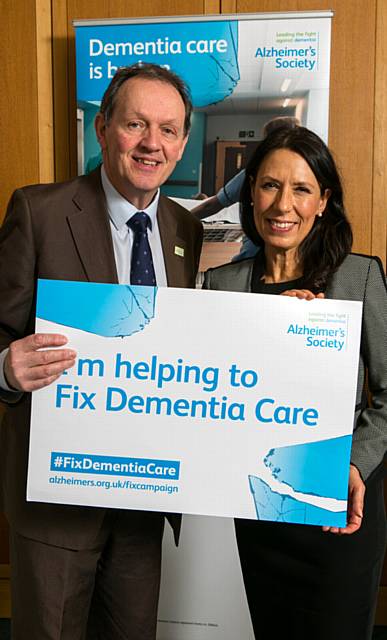 DEBBIE Abrahams, MP for Oldham East and Saddleworth with campaigner and actor Kevin Whatley
OLDHAM East and Saddleworth MP Debbie Abrahams is supporting a campaign which calls for more funding towards those living with dementia.

MPs across the political party spectrum are supporting the Alzheimer's Society's Fix Dementia Care campaign and their call for more funding for care both at home and in care homes.

Currently 850,000 people are living with dementia in the UK.

The Alzheimer's Society welcomed the Government's announcement in December that it would invest £240m into social care, but believes that the amount will not plug the funding gap it faces.

They believe the proposal diverts funding already committed to local authorities for elsewhere.

The Government also said that local authorities will now be able to raise council tax by up to three per cent a year to help pay for care, without going to a local referendum, through what is called a 'precept'.

Disparity

However, the Alzheimer's Society believe it will still not be enough or help with the disparity across the country.

Mrs Abrahams, who was the first MP to be a Dementia Friends Champion, said: "With 400,000 people across England needing assistance to get dressed, eat and take their medication we must ensure that proper dementia training is made available to all homecare workers. It's unacceptable in this day and age that people with dementia, and their families, are saying that they are being left in soiled clothes, aren't getting hot meals and missing vital medication.

Starved

"Good quality homecare means people with dementia can live at home for longer rather than having to be taken into hospital or a care home.

"The Government must bring forward investment in social care which has been starved of £4.6bn since 2010. These issues in the homecare system must be tackled.

"Relying on the social care precept, which in Oldham's case is much less than current levels of social care demand, will not work.

"The Government is failing older people by setting up a care postcode lottery."