Protests against Trump
Reporter: Gillian Potts
Date published: 06 February 2017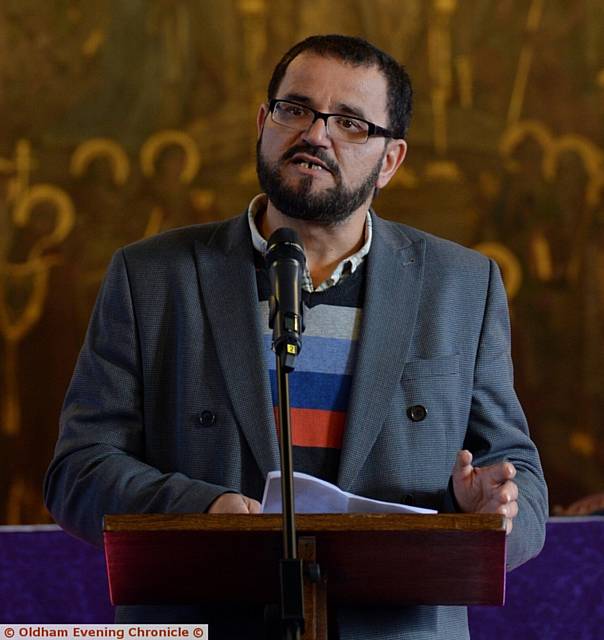 SPEAKING out . . . Fazal Rahim
PREACHERS and politicians joined forces to condemn Donald Trump's controversial US travel ban imposed on seven, mainly Muslim, countries at Oldham Parish Church on Saturday.

The peaceful protest against sanctions preventing people from Iran, Iraq, Somalia, Sudan, Syria, Yemen and all refugees from entering America saw solidarity against the globally denounced move against hate, fear and prejudice.

Religious leaders were joined by Oldham East and Saddleworth MP Debbie Abrahams, Oldham Council leader Jean Stretton and over 150 protestors.

Representatives from Christian, Islamic and Jewish faiths and members of the Oldham Interfaith Forum spoke of the necessity to stand together and unite against what they described as President Trump's attempt to suppress and divide.

Father Sumner, Mrs Abrahams and Oldham Mosques Council development officer, Mufti Helal Mahmood, likened the situation currently unfolding in the US to 1930s Germany.

Mrs Abrahams, who jointly organised the event with Oldham Interfaith Forum, said: "It is up to all of us to stand up against what can only be described as hateful language and actions that are going on in America. They are planning the registration of US Muslims which is exactly what happened in 1930s Germany for Jewish people. We have to speak up against it."

Mufti Helal drew on the violence and unrest which erupted on to the streets of Oldham in 2001 as an example of what bitterness and resentment can do.

"Living in Oldham we had a glimpse of hatred on May 26, 2001, on the streets of Glodwick," he said.

"We glimpsed what hatred can do and we are still picking up the pieces of the Oldham riots now.

"People say to me why are you so bothered about what is going on in America what has it got to do with us? But that is what people said when Hitler was raising to power and it led to the Holocaust, a massacre which happened after hatred such as this and this is the hatred Donald Trump is professing."

Denials

Protesters were asked to sign a statement drawn up by Mrs Abrahams, Councillor Stretton, Oldham West and Royton MP Jim McMahon, Failsworth MP Angela Rayner and Father Phil Sumner, parish priest of St Mary's with St Patrick's.

Father Sumner, who was brought into the borough to quell tensions and build inter-faith relationships following the Oldham riots, said Mr Trump's travel ban is unconstitutional and, despite his denials, is obviously targetting the Muslim community.

"We don't create peace by building walls, we create peace by building bridges and standing together," he said.

Former refugee Marzia Babarkarkhail, who survived a hit-and-run murder attempt by the Taliban after setting up a foundation for educating girls and was forced to flee her native Afghanistan in 2008, said she believed the gathering sent out a strong message against division and prejudice. She added: "I think this is a big achievement for Oldham and it will grow."

On Friday, a Seattle judge ruled President Trump's travel ban was unconstitutional and nationals from the countries concerned were authorised to fly to the US once again. A furious Mr Trump has vowed to restore the ban. The joint statement people are being asked to sign includes: "During her visit to meet Donald Trump, Theresa May spoke about our special relationship with America but, we believe, this should be based on shared values.

"President Trump's actions in his first week in office suggest that there are some values we don't share. In Oldham we will stand together and not let the use of hate, fear and prejudice divide us."