Sixty schools still lack a defibrillator
Reporter: Rosalyn Roden
Date published: 23 February 2017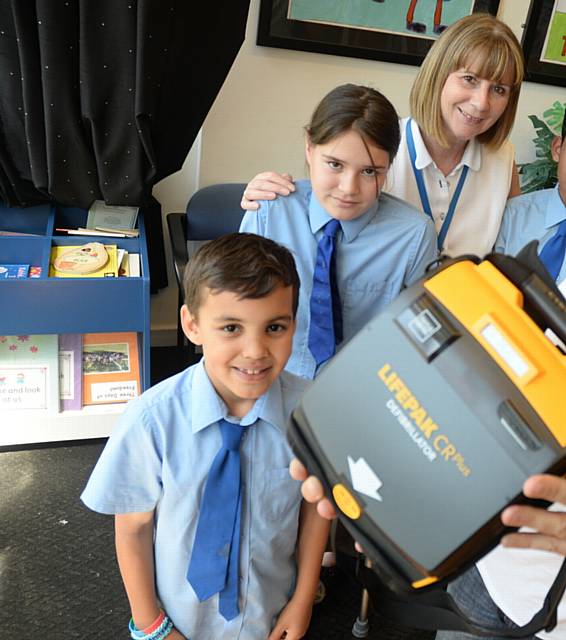 Hand on Heart supplied a defibrillator for Holy Rosary RC Primary School in 2015 thanks to fundraiser Paul Moss. L-R Ethan Moss (9), Elysia Kay - Davies (10), head teacher Barbara Morris and Hamza Ishtiaq (11).
AN OLDHAM GP has launched a campaign to supply every school across the borough with life-saving equipment.

Dr Anita Sharma is on a mission to install a defibrillator at every school.

The GP at South Chadderton Health Centre is working alongside children's charity Hand on Heart.

Hand on Heart have determined that around 60 Oldham schools are still in need of the equipment, which gives an electric shock to the heart to someone in cardiac arrest.

Dr Sharma, who is also a vascular clinical director at Oldham Clinical Commissioning Group, said: "Sudden cardiac arrest can strike people of all ages including children.

"Having a defibrillator in a school will offer children, staff and visitors a better chance of survival should a sudden cardiac arrest occur. Survival rate from cardiac arrest is very very low and having a defibrillator can save a life.

Save

"If there is even one thing we can do, if there is just one life we can save, we have to provide all Oldham schools with a defibrillator.

"I am so pleased Hand on Heart have selected Oldham for their next campaign. I hope with their help we can ensure 100 per cent of schools in Oldham are protected by having a defibrillator on site."

Each week, 12 young people die due to sudden cardiac arrest. For every one minute that someone is in cardiac arrest, the chance of survival drops by between 10-14 per cent.

Survival rates can increase from six per cent to more than 74 per cent by first aid using basic CPR skills and a defibrillator on a scene, while waiting for emergency services to arrive.

Hand on Heart has already installed defibrillators at Alt Primary School, which was funded by Sainsbury's, and; Holy Rosary RC Primary School, thanks to funding raised by a volunteer.

Many schools would like defibrillator, but lack money to buy one.

A Hand on Heart representative said: "Our plan for Oldham will be to work with schools directly, but also to gain support from local councillors, MPs and businesses, to assist with securing the funding required to ensure every school in the county has a defibrillator and training."