Boobgate officer's council position
Reporter: Richard Hooton
Date published: 28 February 2017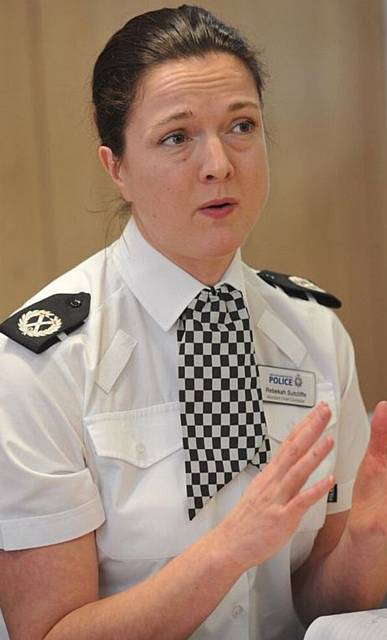 Assistant Chief Constable Rebekah Sutcliffe
A SENIOR police officer who bared her breast at the height of an hour-long drunken rant against a junior colleague's boob job is now working with Oldham Council.

In November, Rebekah Sutcliffe was handed a final written warning after she was found guilty of gross misconduct for behaving "shockingly, cruelly and hurtfully" to Superintendent Sarah Jackson during a boozy gala dinner at Manchester's Hilton Hotel.

It's reported that the £109,000-a-year assistant chief constable, whose portfolio had included serious crime and counter terrorism, has been quietly sidelined. She has been seconded to Oldham Council where she is overseeing a project to encourage police and other public bodies to work more closely together.

Dismayed

Severely drunk ACC Sutcliffe, a vicar's daughter from Saddleworth and one of the most senior female officers in the country, had pulled down her dress to reveal her left breast during an hour-long rant at her "silly and vain" junior over her boob job, telling the object of her ire: "These are the breasts of someone who has had three children. They are ugly but I don't feel the need to pump myself full of silicone to get self-esteem."

It is thought that many force leaders and junior officers were dismayed when the eminent, independent disciplinary panel ­- having found her guilty of gross misconduct ­- recommended GMP should spare her from the sack.

A GMP statement said: "Assistant Chief Constable Rebekah Sutcliffe is working with Oldham Council. It's an important role overseeing the introduction of integrated working in the public sector. Rebekah has extensive knowledge and experience. The project is for six months."