Free rides for youth if Burnham gets elected
Reporter: Iram Ramzan
Date published: 16 March 2017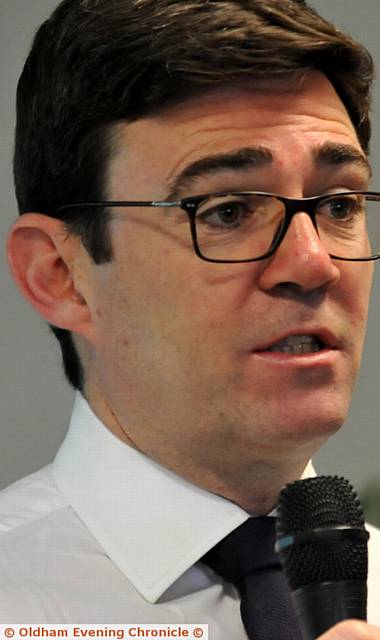 ANDY Burnham
YOUNG people could get free passes on public transport if Labour MP Andy Burnham is elected Greater Manchester Mayor.

The MP for Leigh launched a document called Our Manifesto at The Sharp Project in Manchester yesterday.

It is the result of months of collaboration with ordinary people and puts young people at the heart of a new vision for Greater Manchester.

Mr Burnham and his team have been to the ten boroughs in the region - including Oldham in January - and the manifesto is built around their views.

Key points include:

* Ensuring all children are school-ready, investing in technical education, and helping young people with transport costs

* Introducing the country's first fully integrated National Health and Social Care service

* Tackling congestion, using new powers to get a better deal for passengers

* Making sure everyone has an affordable home to rent or buy and ending rough sleeping by 2020.

All 16-18-year-olds, if he is elected, will get half price bus passes, moving on to Metrolink passes, with the aim of delivering free passes in time.

Mr Burnham said he is committed to this and funding of around £20m has already been agreed.

The money would be pooled from employers and colleges as well as the GM mayor using his powers to make bus companies put through these changes.

This would not, he emphasised, mean higher fares for other passengers. He said this would save money in the long run.

Another idea in the manifesto is to build more homes - but not on green spaces. To regenerate town centres in places such as Oldham and Rochdale, affordable homes would be built in the town centres, with new bars and leisure facilities.

One initiative that could be considered is to pay for graduates in nursery, midwifery and physiotherapy.

Mr Burnham said this would be done only if there is a shortage in those fields - which there usually is - and if those graduates commit to staying in Greater Manchester and working in the local NHS.

The money for this, he said, will come from stopping payments to private agency fees in the NHS.

He said: "We're putting young people at the heart of Our Manifesto. We won't be able to build the strong Greater Manchester that we need to see by pulling the rug from under the next generation.

"If we're going to make a success of Brexit we have got to be ambitious.

"We have got to give young people the confidence to make their name in a challenging world.

"We want young people to be able to build the homes and transport system Greater Manchester will need in the future."

Mr Burnham will also establish a Youth Combined Authority made up of young people to advise the Mayor on how policies affect young people.

He also wants to see Greater Manchester become a digital city and a green city.

If elected he will have a digital summit and create a cycling network linking the 10 boroughs to make people more active.

He also wants to see more gender balance on the Greater Manchester Combined Authority.

"In the future more change will come by people taking inspiration by what's happening in Greater Manchester rather than taking direction from Westminster," said Mr Burnham.

"We're saying to young people they have a future. We're saying to older and disabled people we value their contribution.

"We're going to put hope back into people's hearts. Greater Manchester has changed before. Let's go out there and do it again."

Also featured in the manifesto is Oldham activist and Burnham backer, Marzia Babakarkhail.

The former judge had to flee Afghanistan when she was targeted by the Taliban.

She backs Mr Burnham's plans to end homelessness. She said: "I believe in him. He is passionate and disciplined. He thinks about all communities and he has respect for everyone."