Dispelling the myths of Down's Syndrome
Reporter: Lucy Kenderdine
Date published: 21 March 2017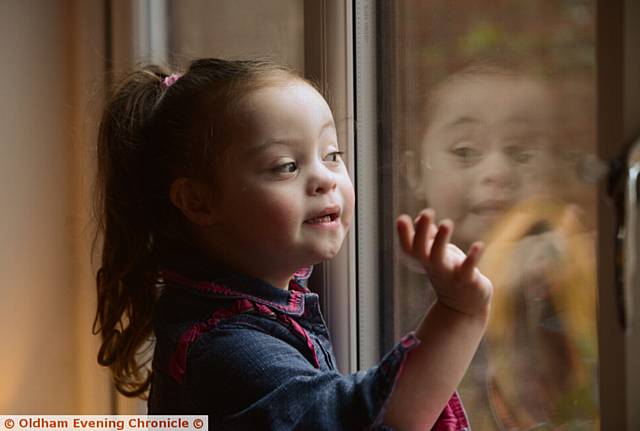 Photo: Anthony Miller
THREE-year-old Halle Smith Scott
ACROSS the globe people are marking World Down's Syndrome Day today, which aims to raise awareness of the condition and showcase the vital role those with Down's Syndrome can play in communities.

The event takes place every year on March 21 to signify the triplication of the 21st chromosome which causes Down's Syndrome.

About 750 babies with Down's Syndrome are born in the UK each year, with the condition leaving them with a learning disability. However, with the right support, increasing numbers of of people with Down's Syndrome are leaving home and living with support in their communities, gaining employment, meeting partners and getting the best out of life.

This year the Down's Syndrome Association is running an awareness week, coinciding with international day, focused on enabling people with the condition to express themselves and be heard as well as dispel the myths and hurtful stereotypes related to the condition.

The Smith Scott family, from Oldham, are sharing their experiences of their daughter three-year-old Halle, who has Down's Syndrome.

Halle is an impressive little girl. Her family credit the youngster with teaching them so much about life since she was born that their whole world view has changed dramatically.

Halle, from Moorside, was diagnosed shortly after birth and is quickly growing into a kind, caring and cheeky little girl.

Mum Vicci Smith Scott said: "She is one of the best things that could ever have happened to us.

"Having Halle has changed us completely and she has brought so much joy into our lives.

"Our outlook on life, the way we see things, it has all changed. We see the world in a whole new way.

"She is amazing and we savour everything she does and every milestone she reaches."

The family are sharing their experiences in order to highlight the wrong and sometimes hurtful stereotypes that some people in the community have about the condition.

Vicci said: "We didn't know until she was born that Halle had Down's Syndrome and we had to wait a few weeks for the tests to confirm the diagnosis.

"We had no experience of it but we looked it up online, which was one of the worst things we could have done.

"We found a lot of negative stereotypes and people treating the condition as a joke.

"It was very upsetting to read and it's vital that they are challenged.

"Some people stereotype everyone with Down's Syndrome by saying they're all the same. It can be quite hurtful when people say that everyone with Down's Syndrome looks the same or are always happy and affectionate.

"Halle can stand her ground and be stubborn just like every other three-year-old.

"She has her own personality and is an individual just like the rest of us and should treated in the same way."

The family, including dad Graham and Halle's three siblings, have been given support from the Down's Syndrome Association (DSA) and DS West Pennine, a parent-led Down's Syndrome support group in Oldham, and have previously spoken to health professionals at the Royal Oldham Hospital as part of the DSA Tell it Right Campaign.

Vicci said: "The DSA and DS West Pennine have been amazing - we've met some lifelong friends there.

"It's important to have people who are in similar circumstances who you can talk to and share your experiences with.

"We have been to America a few times and met some of their groups and last year we attended the National Down Syndrome Congress convention, which was attended by families from all over the world."

Halle, who is adored by her siblings Lorca, Theo and Dominie, is attending nursery, but is eagerly awaiting the chance to start at a mainstream primary school in September.