Family speak of grief over daughter's death
Reporter: Rosalyn Roden
Date published: 27 March 2017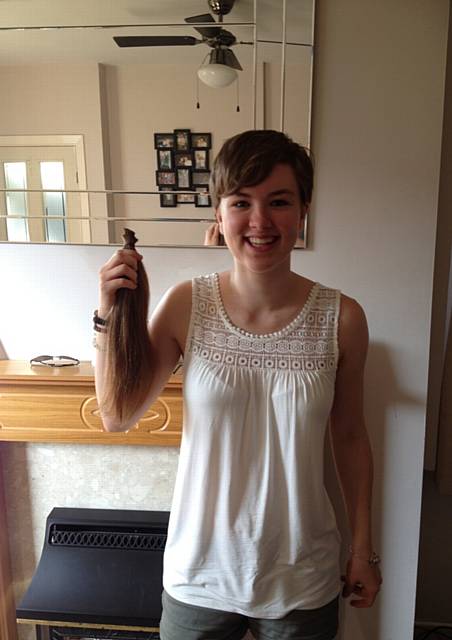 CHLOE donated her hair to a children's cancer charity
A FAMILY has told of their devastation in the face of their daughter's unexpected and "avoidable" death.

The mother and father of Chloe Holt (20) shared the grief they have experienced after the loving and caring student was discovered in her university room.

Janine Hoyle and Stephen Holt of Greenacres believe their daughter took her own life after coming across several diaries which recorded her feelings of unhappiness and anxiety, although an inquest is still to be held to determine the legal cause of death.

Despite her parents' pain they voiced one key resolution - to highlight the struggle that Chloe faced and to do all they can to prevent it happening to another family.

Mum Janine said: "We are devastated.

"It has changed our lives forever.

"Chloe was suffering in silence.

"She kept it all to herself. There was no indication whatsoever to us that this might happen.

"She was a loving and caring girl who was always smiling."

Diaries

Chloe was found in her ground-floor bedroom in Durham on February 15 by the police, who had received a 999 call from Chloe's pupil support officer when she failed to arrive for an appointment.

The first Stephen and Janine knew of their daughter's struggle with mental health was when they received the call from police and later came across diaries in which Chloe had recorded her ups and downs while at Durham University.

Stephen said: "Chloe recorded it all in diaries.

"Most of her writing was really positive but it got really severe in the last few days.

"But all this was hidden.

"She was really happy. She was having a really good time at university. She was so intelligent. She loved her music and enjoyed going to festivals."

Brother Callum (18) said: "Chloe was an amazing person and sister and my best friend growing up and if reading Chloe's story encourages anyone to seek help then Chloe would be happy."

The family pointed to the stigma that surrounds depression and other mental health issues as one of the reasons why people do not speak out.

They encouraged those who are struggling with mental health issues to be brave and speak with friends and family, and to seek help before it is too late.

Stephen said: "People think they will be judged if they speak out but if Chloe had told us sooner she could have got help sooner.

"It is never talked about and social media does not help because people compare themselves or only post positive things.

"There is help available but it is completely underfunded and has to be carried out by charities."

Chloe's uncle Matt Hoyle has organised a fundraising event to drum up support for Mind - a charity committed to early intervention and prevention in mental health. More than 100 residents are expected to turn out for a fundraising night at Waterhead Academy Sports Hall, complete with a body weight fitness class led by the personal trainer.

A raffle will also take place for visitors at the free-to-attend Tuesday night event, with several prizes donated by local businesses.

Matt said: "We want to raise awareness about the charity and about mental health.

"Nobody saw this coming. Chloe was always so happy."

The former Counthill School pupil was in her third year at Durham University - one of the top universities in the country - and on target to receive a 2:1 in her criminology degree.

Confide

She was also an avid Harry Potter fan, so much so that she became chair of the university's Harry Potter Society during her second year.

Stephen said: "She was the happiest person you could know."

Janine added: "I would urge anyone with mental health to find someone they can confide in - a friend, a family member, anyone, as long as they seek help."

For information about Tuesday's event contact Matt on 07917 753050.

To donate to Mind please visit http://www.justgiving.com/mindBSTClass.