Tributes pour in for much-loved councillor
Reporter: Jacob Metcalf
Date published: 28 March 2017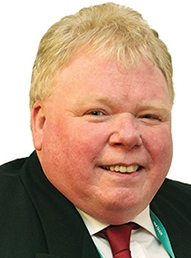 TRIBUTES . . . Councillor Tony Larkin
TRIBUTES have poured in for much-loved and long-serving Royton councillor Tony Larkin who died at the weekend.

The 63-year-old Royton North representative, who died after a long battle with illness, was described as a respected councillor who believed in protecting the rights of people.

He first became a councillor in 1996 and also served as vice-chairman of the planning committee, chairman of the Royton District Executive and a member of the Royton Community Fund.

Despite his illness, his passion for work and drive for the best for the borough would not relent, which was shown when he put his illness to one side to walk in the Save the Green Belt March with Royton residents.

Councillor Larkin also served on various governing bodies of local schools and was a former member of the St Aiden & Oswald's Parish Council and the Institute of Advanced Motorists.

His son, James Larkin, councillor for Royton North said: "I just want to get across how much he loved his role as a councillor for what he could do for the people of Royton and as a parent in the way he brought us and his grandchildren up. He was determined, he did what he knew needed to be done. I think he was a well-respected councillor, not just by the people but by his fellow councillors. When he spoke they knew he had something to say. He was considered a much-loved and respected person.

"He was someone who believed in protecting the working person and working rights for working people, but he cared for all people. A father who wanted the best for his family and brought us up and told us that your responsibility doesn't end at the front door. He would help others and put them first."

James praised the staff at Dr Kershaw's Hospice who had cared for his father in the last two weeks of his life.

He said: "The staff were magnificent, I can't find the words to describe what they have done for us. The staff treat the patients with dignity and respect. There was a lot of tears from the staff and that shows the measure of the man because they had only known him for two weeks.

"It is heartbreaking for us but we take comfort in the amount of people who have got in touch. He is not suffering anymore."

Councillor for Royton South Steven Bashforth said: "It is a devastating blow. He had been ill for some time and he was working on case work right up until he passed. That is what Tony was about, he had a heart of gold and he always meant what he said.

"The last time I was with Tony was when we went up on to the 'Save the green belt march' with the residents. He was sick and got up and did it, he was passionate about it. He was a fabulous guy."

He added: "The best tribute for Tony is for us to keep up the work he was so passionate about and genuinely believed in."

In a book of condolence on the council website, leader Councillor Jean Stretton said: "Tony was a very dedicated ward member who worked very hard to represent all his residents, especially the more vulnerable members of our community.

"He was a positive force and influence - and a good listener for anyone who wanted his time."

MP Jim McMahon said on Twitter: "Heart-breaking that Royton Cllr, all round fantastic man Tony Larkin has passed away. His family are his legacy and we will miss him greatly."

Those wishing to make their condolences can do so at Royton Town Hall and at the Rochdale Road reception at the Civic Centre or by visiting oldham.gov.uk/blog/cllr_larkin.