MPs follow Positive Steps for job-seekers
Reporter: Rosalyn Roden
Date published: 07 April 2017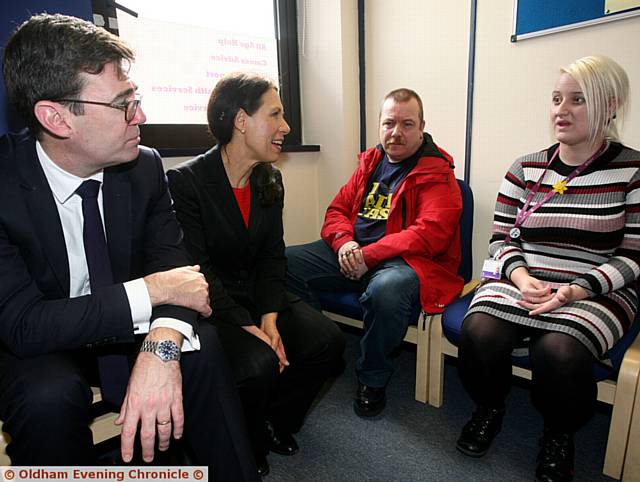 ANDY Burnham MP and Debbie Abrahams MP talking to John Whitehouse and Chloe Sypula
A CHARITABLE trust in Oldham is leading the way in providing support for the unemployed.

MPs Debbie Abrahams and Andy Burnham visited Positive Steps, in Union Street, to see first-hand the support it provides.

The centre was hailed as a "leading provider" for its Work Programme which addresses the physical, social and mental health needs of residents as well as focusing on developing skills, qualifications and experience to secure job opportunities.

The visit was part of Debbie Abrahams' ongoing efforts in her role as Shadow Work and Pensions Secretary to see how projects across the country are operating their work programmes.

The MP for Oldham East and Saddleworth said: "It's important for me to see first-hand the support unemployed people are getting and to see where the system can be improved.

"Having a leading provider like Positive Steps on my doorstep is a great help and I was very keen to share their experience with Andy Burnham who has great plans for improving the educational and career prospects for young people as part of his manifesto for becoming the Mayor of Greater Manchester."

Positive Steps provides a range of services for young people, adults and families including careers information, advice and guidance services, a carers' support service and family support services among others. The trust is funded through council and charitable grants, donations and business contracts.

During the visit the MPs were shown around the skills zone workshop which houses Positive Cycles - a community-based project which sees volunteers and young people clean up old bikes and fix them, gaining AQA qualifications in the process.

Commenting after the visit Mr Burnham, MP for Leigh, said: "I'd like to thank everyone at Positive Steps for showing us around and sharing their experiences with us. I'm delighted to meet the people who support the unemployed and I look forward to working with them to develop new strategies for skills in Greater Manchester, including adult learning, retraining and workforce development."

The Work Programme was introduced by the Coalition government in 2011 to get long-term unemployed residents into work and was outsourced to a range of organisations such as Positive Steps.

Director of career guidance services Steve Murphy said: "At Positive Steps we have taken a supportive but challenging approach to working with our Work Programme customers. We have taken the time to thoroughly assess the real barriers that long-term unemployed Oldham residents face when attempting to gain employment."

From April 2017 the Work Programme will be replaced with a new Work and Health Programme for the longer-term unemployed.