Hire firm keeps RSPCA rolling after theft of van
Reporter: Rosalyn Roden
Date published: 19 April 2017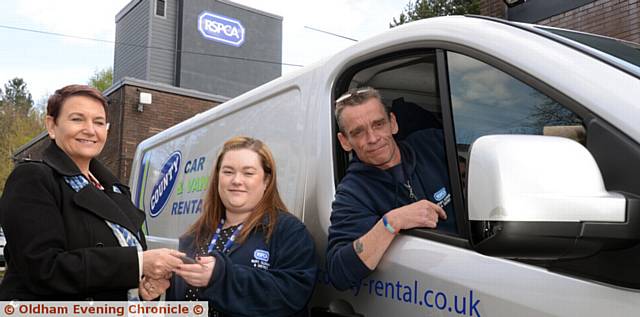 KINDHEARTED . . . County Car area manager Deborah Jordan-Tinant (left), with RSPCA retail operations manager Lindsey Keating and driver Sean Taylor. Below, the RSPCA van which was stolen
OLDHAM RSPCA suffered a critical blow after its only van was stolen.

However, after hearing about the charity's plight a kind-hearted Oldham firm has stepped in, providing a new van free-of-charge until a replacement one can be sourced.

The theft could not have come at a worse time for the animal rescue centre as it prepares to move into its new £1.7 million centre.

Its van, which is used daily to serve eight charity shops across Oldham, was stolen from the Weavers Arms car park, in Huddersfield Road, where it is usually parked with permission.

Thieves took the vehicle just before 8pm on March 22 but the theft was not discovered until two hours later by driver Sean Taylor.

RSPCA operations director Denise McCabe said: "It was a devastating blow.

"As our driver, who lives near the pub, popped to the shops, he saw the van had gone.

"The van supports our entire shop network and it is our shop income that keeps us running. Without it we are crippled." The RSPCA vehicle is used daily to collect and deliver donated second-hand furniture to the charity's shops.

County Car and Van Rental in Lees Road has given one of its vans to the RSPCA until the charity's insurance claim is processed.

Sara Orritt, from the company, said: "We heard that the RSPCA in Oldham had their van stolen. As they are currently in the process of moving premises it couldn't have come at a worse time for them.

"Happily, we have been able to help them out."

County Oldham branch manager Deborah Jordan-Tinant said: "We always strive to go the extra mile for our customers and are pleased to have been able to offer this support to the RSPCA in their hour of need."

The Chronicle previously reported that the RSPCA Oldham branch had a funding shortfall of £200,000 for its new home in Strinesdale Country Park, Holgate Street.

The first animals have already been moved into the new site and five new staff members are in training.

The building interior is almost complete although some finishing touches including carpet tiles and beds for the overnight accommodation room are still to be installed ahead of an official opening.

A total of £50,000 still needs to be raised to cover costs.

Denise McCabe said: "I was absolutely ecstatic when County said they could give us a van free-of-charge for up to six weeks.

"They also said they would let us know about discounts to help us buy a new van but I don't know if we can afford to do that. We are still trying to raise funds."