Refugee's first vote cast after nine-year struggle
Reporter: Rosalyn Roden
Date published: 05 May 2017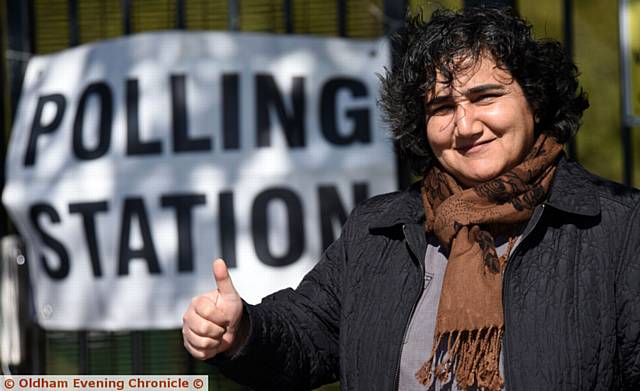 MARZIA Babakarkhail votes for the first time, at Crossbank House in Oldham
AN OLDHAM-DWELLING Afghan refugee was celebrating the opportunity to cast her vote for the first time after a nine-year fight.

Marzia Babakarkhail, who was forced to flee her homeland by the Taliban in 2008, was able to exercise her right to democracy yesterday.

The former judge urged residents to follow suit as she turned out to her nearest polling station to vote for Manchester's new regional mayor.

Marzia said: "It was a very special day for me. After nine years of working hard to become a UK citizen I was eligible to vote here for the first time.

"I feel very happy because it is now my right to vote and this right gives me my 'voice'.

"Suffragettes like Annie Kenney, from Saddleworth, had to fight to win the right to vote so, as a women's rights activist, it is not just my right to vote, it is now my responsibility too.

"I will never take the right to vote for granted. I know from my own experience at the hands of the Taliban that democracy is very important.

"So I hope everyone voted yesterday and will go out to vote at the General Election on June 8.

"Do not be silent. It is so important to use your voice and to be heard."

Marzia, a judge before leaving Afghanistan, was targeted by the Taliban for setting up a foundation for educating girls and barely survived an attempt on her life.

When she arrived in the UK Marzia barely spoke any English. Eight years on, she was officially granted British citizenship during a ceremony at Chadderton Town Hall last June.

The activist and feminist is currently volunteering as a member of Labour's parliamentary candidate Debbie Abrahams' canvassing team.