Candidates start campaign
Reporter: Robbie MacDonald
Date published: 08 May 2017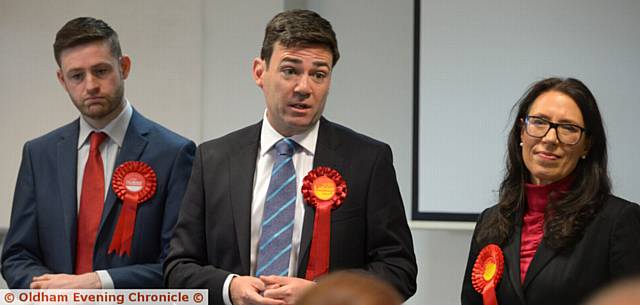 LABOUR Parliamentary candidates Jim McMahon (left) and Debbie Abrahams with elected Greater Manchester Mayor Andy Burnham
LABOUR parliamentary candidates Jim McMahon and Debbie Abrahams launched their general election campaigns during Andy Burnham's visit to Oldham.

They said they would support the Greater Manchester Mayor's devolved powers through their activity at Westminster.

Mr McMahon agreed on the Mayor's idea that potential new controls were need to tackle slum landlords, saying: "It's immoral to use public money to fund housing that does not meet decent standards.

"If the Greater Manchester Mayor had these powers then this would change overnight. MPs at Westminster will be pushing for those powers."

A member of the audience said: "We need to bring back rent controls and inspection of private rented accommodation.

"We want decent places and rents that working class people can afford."

Debbie Abrahams agreed with other speakers' criticisms of the draft Greater Manchester Spatial Framework, saying it gave powers to developers rather than communities.

She also spoke about the north of England's economic needs and called for better wages.

"We have a London-centric approach with a stagnant economy only benefitting London and the south-east," she said.

"Most wages are at 2007 levels, yet top pay has risen by 50 per cent.

"Working families are in poverty and one-third of people in Oldham earn less than the Living Wage."

Welcoming English regional devolution, Mr McMahon said the move promised much better opportunities to address regional economic opportunities and more co-operative models of business.

"We are going to get serious investment that we have not seen since the Industrial Revolution. Oldham was not created on a foundation of fairness. It was built on exploiting people in mills. The mill-owners spent their profits on mansions and grounds.

"Now we need a new co-operative system. We are standing in the general election on a joint ticket for the Labour Party and the Co-operative Party. We have to co-produce the economic answers and not have them dictated to us."