Burnham pledge
Reporter: Robbie MacDonald
Date published: 08 May 2017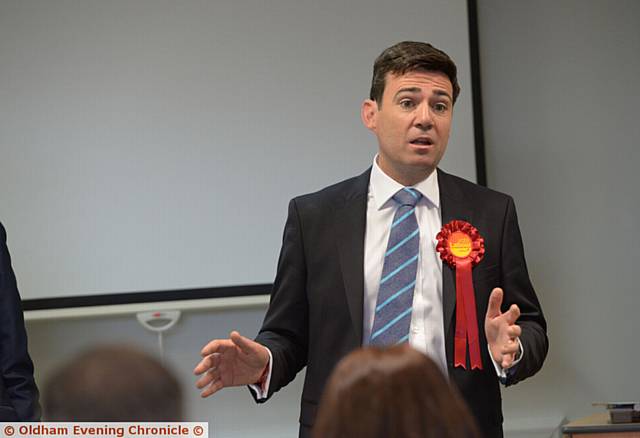 University Campus Oldham, elected Greater Manchester Mayor Andy Burnham at Labour celebration Andy Burnham
GREATER Manchester Mayor Andy Burnham made his first appearance in Oldham since his historic election, vowing to use his newly-created role to make a real difference to the borough.

The Labour politician pledged that outlying towns like Oldham would feel the benefit of his Mayorship and he would put young people at the heart of his plans.

Visiting Oldham on Saturday, Mr Burnham thanked voters for electing him and hailed a new era of English devolution which has put directly-elected regional mayors into power for the first time. In addition to Greater Manchester, other English regions including Liverpool, the Tees Valley in the North-East, the West Midlands, Cambridgeshire & Peterborough and the West of England now have directly-elected mayors.

Mr Burnham became Greater Manchester Mayor on Friday, winning 63 per cent of first-preference votes cast across the region. The former MP for Leigh took over half the votes cast in each of Greater Manchester's 10 boroughs.

In Oldham, he received 26,000 votes compared with just over 8,300 for Conservative runner-up Sean Anstee, who is the leader of Trafford Council.

As Greater Manchester Mayor, he will oversee the Greater Manchester Combined Authority, which includes the leaders of all 10 borough councils including Oldham.It has newly-devolved powers over issues including transport, planning, health and social care, skills and education, and the region's economy.

One of Mr Burnham's first engagements was in Oldham where he attended a Labour general election meeting with parliamentary candidates Jim McMahon and Debbie Abrahams, who hope to be re-elected as MPs for Oldham West & Royton and Oldham East & Saddleworth.

He urged Oldham voters to return three Labour MPs to Westminster at next month's general election, to help him devolve more powers from London to the north.

He said: "By God, didn't the people of Oldham come out in support of me last week? I think every ward in Oldham backed me. It was an incredible result here and across Greater Manchester. I was humbled that so many people voted for me. It's a great mandate across Greater Manchester.

"I want the people of Oldham to see a real difference from having a Labour Mayor of Greater Manchester. It's going to be about the outlying towns and boroughs feeling a greater benefit. And I'm going to put young people at the heart of everything I do."

He said an announcement on a transport deal for young people will be unveiled this week.

Mr Burnham, a former Labour government health secretary, said a new NHS for the 21st century was needed to combine hospital, GP, home and social care under one organisation.

He acknowledged Labour had played a part in creating too many health and care authorities, which was confusing and complicated to run.

He said: "We need a simpler National Health & Care System from home to hospital, for physical and mental health. We should build a modern, reformed social care system where everybody contributes and benefits. I think there should be a tax on high-earners directly for the NHS."

He called for new-style politics, saying he was fed-up with Westminster 'trivia and gossip'. He had left Westminster behind.

He now wanted to focus on young people, outlying towns, affordable housing, homelessness and dealing with bad private landlords.

He also proposed changing the controversial new Greater Manchester Spatial Framework. The blueprint by Greater Manchester Combined Authority suggests where new homes and employment sites should be built in future but has led to some protests, including in Oldham, over where and how many new developments are built.

Mr Burnham said: "The initial plan was flawed because it was too developer-led. It did not have clear attempts to solve the housing crisis. It would lead to big executive homes but not the right types of homes."

On private rented housing, he said some landlords were fair but new laws were needed to hold the unfair ones to account, with the threat of compulsory purchase of their properties, if need be. He blasted slum landlords who profiteered from the housing benefits system.

He said: "Oldham is bedevilled by absent landlords taking housing benefit and not contributing anything to the community or showing respect. Landlords need to respect our communities or get out of Greater Manchester."

Town centres needed much more regeneration through housing, he said.

"Oldham town centre is now seeing some great changes. However, too many town centres have been going down-and-down for years. We need to bring more residents in, build new homes and link them to the public transport system. We want a redrafted Spatial Framework to reflect this."

He endorsed the three Labour candidates standing across Oldham ­- Jim McMahon, Debbie Abrahams and Angela Rayner in Failsworth. Mrs Abrahams had worked for him at Westminster in the past and he said she was hard-worker, far more likely to be found in the Commons reading room ­- rather than drinking in the bar.

The Leader of Oldham Council welcomed Mr Burnham's election with a post on social media.

Councillor Jean Stretton had supported the campaign and observed some of Friday's vote counting. When the final result was declared, she Tweeted: "Smashed it with 63 per cent of the vote."