Labour vowing 'to end free movement'
Reporter: Iram Ramzan
Date published: 22 May 2017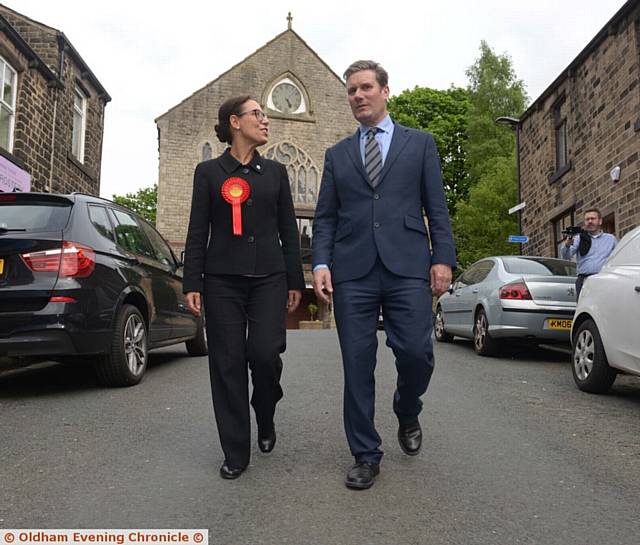 UPPERMILL STROLL . . Keir Starmer outside the Civic Hall with Labour candidate Debbie Abrahams where the topic was Brexit.
LABOUR'S Brexit secretary Keir Starmer has vowed that, under a Labour government, leaving the European Union means free movement of people across the EU will end.

Keir Starmer, Labour's shadow secretary of state for exiting the European Union, spoke at a public event at Uppermill Civic Hall on Friday alongside Labour's candidate for Oldham East and Saddleworth Debbie Abrahams.

Mr Starmer, MP for Holborn and St Pancras, said: "One question we are hearing repeatedly on the doorstep is whether free movement across the EU will continue which is why I am saying, categorically, that under a Labour government freedom of movement will end when we leave the European Union.

"These will be the most complex and important negotiations for decades and it is vital that we set about building alliances and good faith with our EU partners.

"Something the Prime Minister has failed to do so far.

"Labour strongly supports Parliament's insistence that a future EU-UK deal requires the UK to retain international standards on human rights, climate change, social rights and the fight against tax evasion and avoidance.

"Labour's six tests for the final Brexit deal make it clear that there can be no drop in EU-derived rights and protections."

Commenting after the event, Mrs Abrahams, who is shadow secretary for work and pensions, added: "Many people in Oldham East and Saddleworth do have legitimate worries about immigration in the constituency, and the UK, so it's important we are clear that under a Labour government free movement of people across the EU will end.

"The impact of Brexit on Oldham and Saddleworth could be a positive or a negative one which is why I've been campaigning and arguing for the right kind of Brexit that will help our borough the most.

"Firstly, we must honour the referendum result and democracy. That is why I voted to trigger article 50 to leave the EU.

"Secondly, we must secure the 14,000 jobs in Oldham and Saddleworth dependent on EU trade with some kind of agreement and access to new markets worldwide.

"Thirdly, although we know that skilled migrants do much for our economy, for example our NHS would collapse without doctors and nurses from overseas, we will use this opportunity to deal with the problems that unchecked migration can bring to some communities.

"I have argued that while we want some immigration it should be fairly controlled. Agencies should be barred from recruiting labour directly and solely from abroad, undercutting the wages of British workers. We also need stronger border controls, putting the needs of our communities and economy first.

"The Tories made promises in their 2010 and 2015 manifestos that they would cap immigration to tens of thousands. Each time they failed and they are making this promise yet again. No-one can take these promises seriously anymore.

"Only Labour has a clear plan on Brexit, and it's about getting the best deal, curbing immigration and protecting jobs here in Oldham."