Living wage pledge by Labour polls hopefuls
Reporter: Iram Ramzan
Date published: 22 May 2017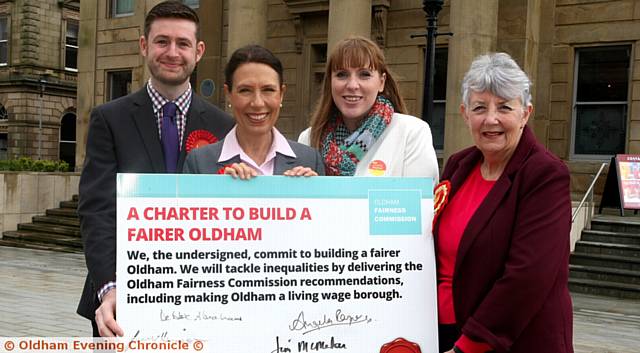 CHARTER support . . . Jim McMahon, Debbie Abrahams, Angela Rayner and Jenny Harrison
LABOUR politicians in Oldham have pledged to create 'living wage' constituencies ­- one of the key findings of the Oldham Fairness Commission (OFC).

Debbie Abrahams, Labour's shadow work and pensions secretary who is contesting the Oldham East and Saddleworth constituency, chaired the commission and found that one in three jobs in Oldham are paid below the living wage, compared with one in five in the North-West as a whole.

She said: "There is overwhelming evidence of the effects these income inequalities have on how long we live, health, social mobility and levels of crime.

"Labour believe in a full and proper wage for a working day. That's why we, as Labour politicians, are committed to introducing a statutory real living wage across our constituencies wherever and whenever we can.

"Decent pay is not just fundamentally fair, it's good for business, it's good for employees, and it's good for Oldham."

Jim McMahon, candidate for Oldham West and Royton and Labour's shadow minister for local government, said: "Failed Tory austerity has seen wages stagnate and working families struggle to make ends meet.

"Labour will make sure that everyone in our constituencies earns enough through the introduction of a statutory real living wage of £10 per hour."

Councillor Jenny Harrison, who represented council leader Jean Stretton at an event, added: "We're very proud of the work the council is already doing with our Fair Employment Charter launched in 2014 in partnership with Get Oldham Working.

"These initiatives go some way to address the issues of income and employment inequalities.

"However, addressing underlying economic causes needs action at a national level. Only a Labour government will tackle this."

Download the OFC study at http://www.debbieabrahams.org.uk/wp-content/uploads/2015/03/250315_OldhamFairnessCommission_FINAL1.pdf.