Shock, anger, hurt... this was an evil act
Reporter: Lucy Kenderdine
Date published: 23 May 2017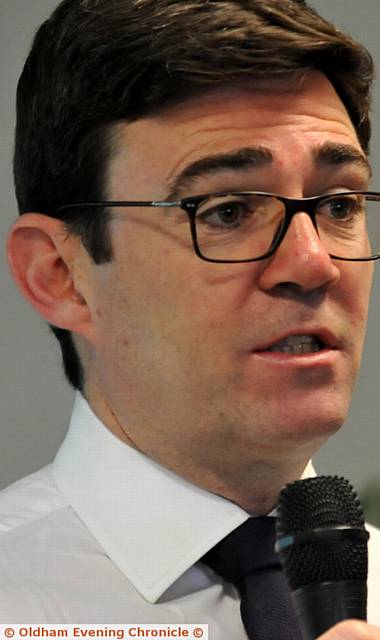 ANDY Burnham
GREATER Manchester Mayor Andy Burnham said it was difficult to put into words what had happened.

He then described the incident as an evil act.

"There's so much shock, anger and hurt that we feel today," he said.

"These were children, young people and their families. This was an evil act.

"Our first thoughts are with the families of those killed and injured and we will do whatever we can to support them. We are grieving today but we are strong.

"Today it will be business as usual as far as possible in our great city.

"I want to thank the hundreds of police, fire and ambulance staff who worked through the night in the most difficult circumstances imaginable.

"We have had messages of support from cities across the country and around the world and we thank them for that.

"But lastly I want to thank the people of Manchester.

"Even in the minutes after the attack they opened their doors to strangers and drove them away from danger.

"They gave the best possible immediate response to those who seek to divide us and it will be that spirit of Manchester that will prevail and hold us together."

Jim McMahon, Labour's parliamentary candidate for Oldham West and Royton, said: "My heart has sunk, news none of us wanted to hear."

Oldham Council leader Jean Stretton said: "My thoughts are with all affected and also with our outstanding emergency responders and services."

Debbie Abrahams, Labour's parliamentary candidate for Oldham East and Saddleworth, said: "This is a shocking event and my thoughts are with all those affected by it. Once again our amazing emergency services and NHS staff are at the forefront of helping people in the aftermath of the explosion."

Angela Raynor, Labour's parliamentary candidate for Ashton, which covers part of Failsworth, said: "Devastated to hear of the dead and injured at the Manchester Arena, to bomb a concert attended by teens is a particularly sickening act."