Arsonist targets mosque in 'revenge' attack
Reporter: Gillian Potts
Date published: 24 May 2017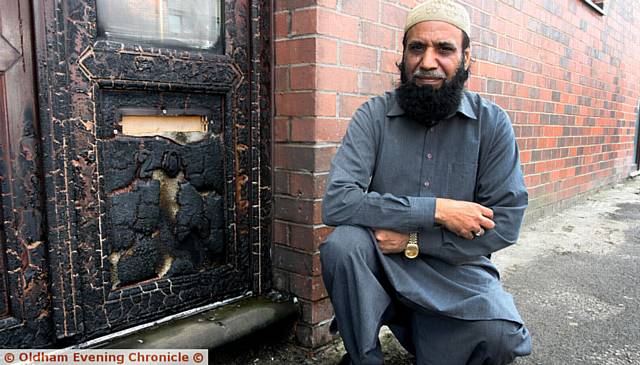 IMAM, Mohammad Siddiq outside the mosque
AN OLDHAM mosque is at the centre of a suspected "revenge attack" following the Manchester Arena atrocity.

Just hours after the suicide bombing killed 22 people and injured 59 someone attempted to torch the Jamia Qasmia Zahidia Islamic Centre - known locally as Villa Road mosque - by pushing lit materials into the letterbox at around 2am on Tuesday.

Luckily the flames were dowsed by a passer-by who also called the fire service.

Imam Mohammad Siddiq said they were considering it to be a reprisal incident and they had informed Greater Manchester Police and passed on CCTV images.

"It could be a reprisal reaction to what happened in Manchester but we can't say for sure.

"It's very sad. It's a time for people to come together and these sort of things do not help at all and it makes us as a community afraid and we fear whoever did this may come back."

"I have no words for what happened in Manchester and we are very upset by it. These were children.

"You can't control these people or what they do. It is terrible."

Facebook group "Oldham News and Media" circulated an image of the damage saying: "Everyone is sad and upset and confused, many emotions running through everybody in the region. But the person(s) responsible for this fire are not only doing exactly what the terrorist and the people behind them want you to do but are as bad as them. Do the opposite of what they want you to do, be united regardless of backgrounds. Don't let them win."

Debbie Abrahams, Labour's Parliamentary candidate for Oldham East and Saddleworth, visited the mosque and said: "What happened in Manchester was an atrocious attack. I utterly condemn this attack and the attack on one of our mosques.

"Islam is a religion based on peace but, as with many religions, a small minority of people often seek to distort its true meaning."