Every little helps to feed people in need
Reporter: Gillian Potts
Date published: 26 May 2017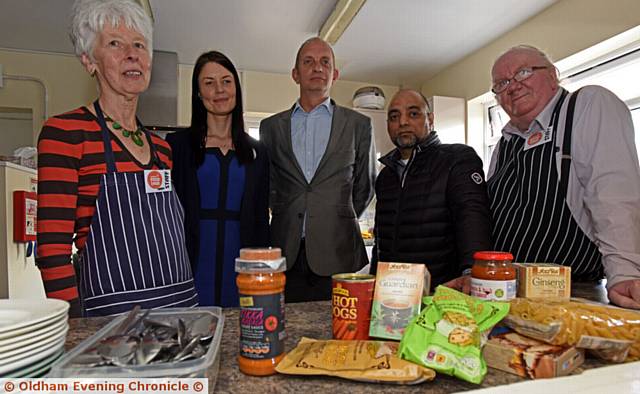 FOOD for the needy . . . Margaret Halley (volunteer), Marie Toora (Tesco), Ash Cooper (FareShare), Nasim Ashraf (UKEFF) and Andrew Clark (volunteer)
SURPLUS food from Tesco is making bags of difference to those in need in the borough.

UK Education and Faith Foundation, which jointly operates the One World Cafe at the Unitarian Chapel, in Connaught Street, and its weekly Oldham Food Aid Hub, is one of the charities using the supermarket's left-over stock to feed and distribute among the poverty-stricken and homeless.

Since Tesco launched the Community Food Connection programme 12 months ago their Huddersfield Road Extra, Chadderton superstore, Failsworth and Greenfield stores have given away the equivalent of 33,500 meals - a hefty chunk of the 250,000 meals Tesco has donated across Greater Manchester so far.

And the borough's Express shops are set to join the scheme later this year.

Through the FareShare FoodCloud app charities can collect a range of goods from bread to fruit and vegetables to fuel their food banks and community cafes.

UKEFF and Unitarian chapel volunteers feed dozens of people every week with the help of the donations, serving up hearty breakfasts, meals and brews to low income and needy families and dozens who are sleeping rough. On Mondays UKEFF's Food Hub supplies around 65 people weekly with bread and essentials.

Tesco Chadderton store manager Marie Toora took a look behind the scenes at UKEFF and the chapel's bustling Monday Project to see just how the store's donations are helping to alleviate some of the poverty and misery faced by thousands across the borough.

UKEFF was set up in 2008 to educate people in Oldham about different beliefs and faiths to create a greater understanding and better community cohesion.

Since partnering with Oldham Unitarian Chapel in 2010 they have reached out year-round to the homeless and now help those considered to be in food poverty and victims of the welfare cuts, offering food parcels and benefit advice. In the last year they have supplied 3,216 food parcels, to 1,152 families which include 3,768 children, and served 4,776 hot meals.

Co-founder Nasim Ashraf said: "Tesco have been overwhelming us with food from their Oldham stores. Their contributions are very, very helpful to what we do. Just recently we're had so much bread from them we've been able to give users two or three loaves each.

"Their support is much-needed and appreciated and it shows when supermarkets and FareShare get on board a lot can be achieved. The Tesco team are amazing."

Marie Toora, Tesco Chadderton store manager. said: "We're proud to support the community in Oldham and it was a privilege to be able to see how the surplus food helps people in times of crisis. UKEFF is doing amazing things to support people in need in Oldham and we are humbled by what they do."

Ashley Cooper, project co-ordinator for FareShare, said: "UKEFF provide a great service which brings Oldham's Tesco stores in contact with local people and we are proud to be working with them. They do a great job."

Visit: fareshare.org.uk.

UKEFF needs volunteers to help with food collections from Tesco stores and to help run the One World Cafe. Email enquiries@ukeff.org or visit the UKEFF Facebook page.