Councillor's stirring tribute to victims
Reporter: Jacob Metcalf
Date published: 31 May 2017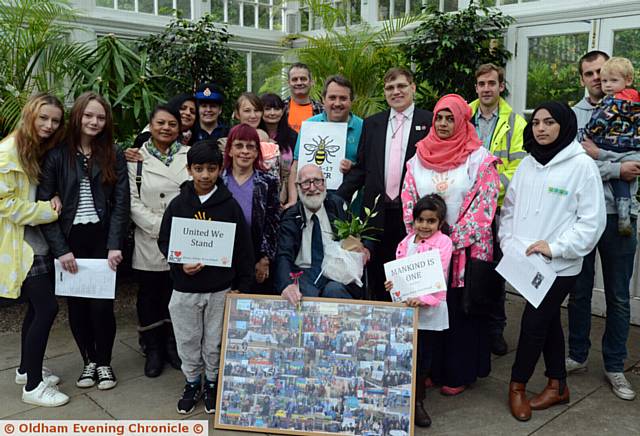 THE Alexandra Park peace vigil included a presentation made to the former Mayor Cllr. Derek Heffernan (seated, centre) for his work as Oldham's Champion for Peace.
MEMBERS of the Oldham Pledge to Peace Forum came together to hold a vigil for the victims of the Manchester attack in Alexandra Park yesterday.

Former Mayor of Oldham, Councillor Derek Heffernan, along with members of the forum, attended the vigil yesterday morning as they paid their respects to the victims of the tragedy.

Floral tributes were placed at the new Peace Pole, which stands near to the conservatory in the park, and at 11am a two minutes silence in remembrance of the victims took place.

After a speech from Cllr Heffernan those attending released 22 balloons, one for each victim who died in the attack, before singing John Lennon's Imagine and Don't Look Back In Anger, by Oasis.

Cllr Heffernan said: "Twenty-two balloons represent those that died, today we remember many who are still in hospital and those who needed short hospital treatment and are traumatised.

"On Monday there was a young lady, who must have been around 14-years-old, being interviewed on the news. She has flashbacks, she hears bangs and she smells smoke.

"It was a horrible deed. The perpetrator has not gone to paradise, he has insulted the Muslim world."

Richard Outram, Secretary for The Oldham Pledge to Peace Forum, added: "We're here in a very sorrowful occasion and it is probably quite easy to abandon hope. Today I want to give you hope."

Following the vigil Maria Ellis, Chairperson of Peace Talks Oldham, and Richard Outram, the secretary for the Oldham Pledge to Peace Forum, gave a special presentation to Cllr Heffernan.