Ken Loach attacks the 'cruelty' of government
Reporter: Jacob Metcalf
Date published: 01 June 2017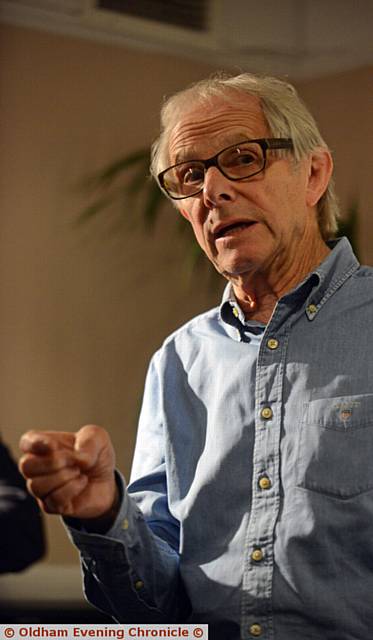 IN FULL FLOW . . . Ken Loach (pictured) makes his point.
OLDHAMERS got the chance to quiz director Ken Loach when he visited the borough yesterday.

He attended a special screening of his latest film "I, Daniel Blake", presented by Debbie Abrahams, Labour's candidate for Oldham East and Saddleworth in the General Election, at the Oldham Coliseum Theatre after which he took part in a Q&A with the public.

The film stars Dave Johns as Daniel Blake, a 59-year-old joiner living in Newcastle who had a heart attack at work.

While he is advised by a cardiologist not to return to work, a work capability assessment deems him fit to do so and so he is denied employment and support allowance.

Daniel befriends a single mother, Katie (Hayley Squires), after she is sanctioned for arriving late for a job centre appointment and the film depicts their struggles as a man with an abundance of skills except for computer literacy and a single mum trying to do the best by her children

Addressing the audience after the film, Ken said: "I am glad to be here to support Debbie in what I think is an election like no other election that we have had before because so many people feel infused, there is something that they really believe in and can fight for.

"I know there has been a lot of gossip, a lot of bad things said during the election, but I do think that a growing number of people who really feel there is something different in the air now and so I am really pleased to come and support Debbie for that reason, but also because Debbie has led the campaign to end this appalling, cruel, knowingly cruel, knowingly brutal system that the government has put in place."

Speaking about the idea behind "I, Daniel Blake" and the research that he undertook, Ken said: "We found we were exchanging more and more stories about the rise in food banks, about stories from the DWP, stories from the job centre and stories about sanctions and how people were being sanctioned.

"Trivial reasons for sanctions, a few minutes late, a woman with children a few minutes late because of the buses, we had story after story and we thought we should look into this.

"So we went around six or seven towns in England and we went up to Glasgow, and we just heard these extraordinary stories.

"What became apparent is that this is happening to hundreds of thousands of people and yet we don't talk about it.

"The first lad we met and he was 19 years old, this was the first day we began, and we went to his room, he had a room in his charity, he had a mattress on the floor, an old fridge in the corner and a pile of clothes on the floor and Paul said 'do you mind showing us what's in your fridge', he said yeah no bother, he opened the door and there was nothing."

He went on to say that they got help from job centre workers through the union to gain an insight. During filming they used people who had worked at a job centre and food banks which brought a sense of realism.