'Be fair - pay on time' pledge made
Reporter: Lucy Kenderdine
Date published: 02 June 2017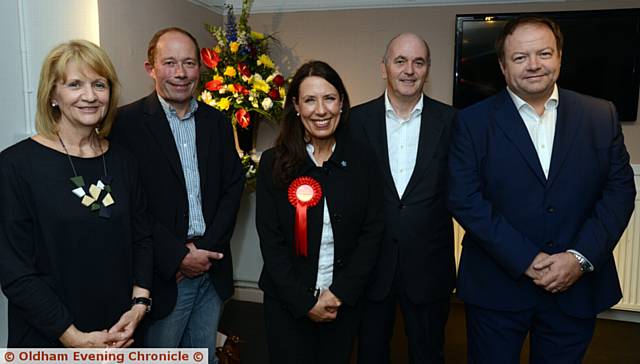 LEFT to right, Baroness Beverly Hughes (deputy Mayor of Greater Manchester), Kevin Shaw (chief executive and artistic director Coliseum), Debbie Abrahams, speakers Steve Sutherland (Dortech), Ian Taylor (Team Spirit)
LABOUR'S parliamentary candidate for Oldham East and Saddleworth Debbie Abrahams has pledged to continue to stand up for small businesses.

Speaking at a business roundtable in Oldham yesterday, Mrs Abrahams discussed her Be Fair - Pay on Time campaign, which she created after hearing about the effect of late payments on small business owners in Oldham and Saddleworth.

She said: "The majority of people in employment work in a small or medium sized business so the tactics of large companies who pay late affects the lives of many millions of working people. In fact recent figures show that over 400 companies in Oldham East and Saddleworth are struggling to pay their staff as a result of late payment.

"It's shocking to think that in Oldham East and Saddleworth alone almost £31m is owed to small and medium businesses for work that has been done and they've written off almost £8m as bad debts.

"The Tories won't do anything concrete to tackle late payment because so many of their donors are linked to big businesses. But if we're to help small businesses, who are the backbone of our economy, we must stop this late payment culture and only Labour has now officially committed to do this."

The business roundtable, also attended by Baroness Bev Hughes, Greater Manchester Deputy Mayor and Non-Executive Director at the Greater Manchester Chamber of Commerce, heard how Labour has made it official policy to 'declare war on late payment' to small businesses as part of its manifesto strategy for 'growth, jobs and an economy that works for all', directly following the lead set by Mrs Abrahams's campaign,

Baroness Bev Hughes said: "Debbie's commitment to standing up for small business in Oldham and Saddleworth through her 'Be Fair - Pay on Time' campaign is testament to her hard work and dedication to local people and their concerns.

"Oldham East and Saddleworth is lucky to have such a strong, experienced voice standing up for local businesses."

One of the guest speakers at the event was Huddersfield based businessman, Steve Sutherland, Chairman of Dortech Architectural Systems Limited, who has also campaigned alongside Debbie to tackle late payments and appeared as a witnesses at a parliamentary inquiry she instigated in 2012.

Speaking after the event Steve said: "Debbie's a real champion of the late payment cause and the business world really appreciates her efforts to keep this issue in the spotlight and, crucially, not let the Government ignore it.

"Late payment hurts small companies the most, it stops investment, innovation and employment, and creates avoidable costs that small companies are least able to absorb."

He added that during the last recession he "lost count" of the huge sums of money withheld under the excuse of 'general delays' despite the company finishing the work on time and to standard.

Mr Sutherland said: "It goes against all good and moral business sense to deliberately withhold payment, on spurious grounds, as so many larger companies do simply because they have the clout, size and resource to do so.

"Debbie is the only politician I'm aware of who has consistently stood up and said late payment is wrong."