General Election - Meet the Candidates - Oldham East and Saddleworth
Reporter: Iram Ramzan
Date published: 06 June 2017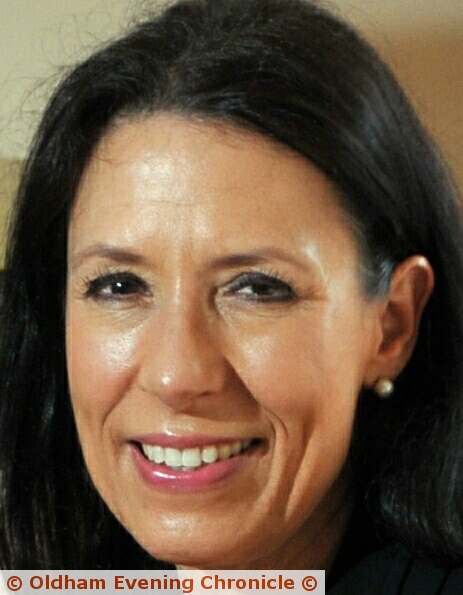 Debbie Abrahams (Lab)
Debbie Abrahams will be fighting to retain her seat in Oldham East and Saddleworth, battling against Kashif Ali (Conservative), Ian Bond (UKIP) and Jonathan Smith (Lib Dem).
DEBBIE ABRAHAMS (LAB)

"I have been so proud to represent Oldham East and Saddleworth over the past six years. During that time I have helped over 10,000 constituents.

"I am proud of my record of standing up for local people, fighting for our businesses and jobs, defending our public services and protecting our Green Belt. I am standing for re-election to continue to be your champion and fight for our communities.

"I established and chaired the Oldham Fairness Commission to tackle inequalities, have campaigned locally and nationally on late payments to small businesses, for a Dementia Friendly Oldham and for better rail services at Greenfield station. I opposed the draft Greater Manchester Spatial Framework to protect our green spaces and have called for stronger action and powers for local councils to tackle the scourge of fly-tipping which is affecting many of our communities.

"People on low and middle incomes have borne the brunt of seven years of cuts. We have a stagnant economy, only benefitting the South, record levels of government debt and wages below 2007 levels. A third of workers in Oldham are in low-paid work and in some parts of the constituency half of children live in poverty, the majority in working families.

"Over 2,000 police jobs have been cut in Greater Manchester since 2010. Across Oldham and Saddleworth we are seeing cracks in our community. They are the result of Conservative policies. I promise to act on these and other injustices.

"Together with our new Greater Manchester Mayor, Andy Burnham, I will work for more local police on the beat, an integrated health and social care service for all, and a cleaner, greener Oldham and Saddleworth.

"With your support, I will continue to fight for you, providing a strong and experienced voice in Parliament and making a real difference in Oldham East and Saddleworth."


KASHIF ALI (CON)

"I am the only candidate in this election who was born, brought up and who lives in the constituency.

"I work as a barrister in Manchester, was a former law tutor at Manchester University and am a volunteer board member for a national charity providing housing and support services for people with mental health problems and learning difficulties.

"At this election, the biggest challenge facing the country is securing a Brexit deal in the national interest which honours the spirit of the 2016 referendum result. That means taking back control of our laws, freeing ourselves from the European Court of Justice and controlling our borders by ending the free movement of people from the EU.

"We need a great Brexit deal but also great trade deals with the rest of the world. Only the Conservatives under Theresa May can be trusted to do this.

"At the 2015 general election in Oldham East & Saddleworth the Liberal Democrats were a poor fourth position.

"They can't win here and seem to have given up. The UKIP vote has also totally collapsed. In 2015 the Conservatives were in second position and all current indications are we are neck and neck with Labour.

"Every vote will count ­- and only a vote for the Conservatives will help get rid of Labour.

"If elected I will be a hard-working committed truly local MP. My record of action includes opposing the Greater Manchester Congestion Charge in 2008 and opposing any current plans by Labour to re-introduce it.

"I want to pull out of the Greater Manchester Spatial Framework and protect the local greenbelt. I have also campaigned for Metrolink to be extended to the constituency, for a cinema to be built, for free short-stay car parking and for a freeze on Council Tax and Business Rates."


JONATHAN SMITH (LIB DEM)

"I am a former director of Social Services in Tameside and NHS chief executive. I have been a specialist working to improve services for children and young people, for the past 12 years.

"My priorities, as a prospective MP, are: education, health and social care, protecting the green belt, and Brexit.

"As a Liberal Democrat, I will continue to speak up for those least able to do so for themselves, and to promote a society that is fairer, more tolerant and more united. Education: Oppose the Tory lunch grab from nearly 8,000 Oldham children. We would invest over £36 million more into Oldham's schools and colleges, and triple the early years' pupil premium (which helps the most deprived children).

"Health and Social Care: A penny on income tax to invest an additional £25 million across Oldham, and a long-term plan for integrating health and social care.

"I would make the mental health services of children and young people one of my top priorities, and am proud that the Liberal Democrats will ring-fence investment for these services.

"Green Spaces: The Liberal Democrats have been the only Party consistently fighting against the threatened vandalism to our green spaces. We must reject GMSF and, instead, adopt a local plan. I would call for prioritising previously developed land, buildings which could be converted, land with planning permission and long-term empty houses, and not concreting over our green spaces.

"Brexit: A 'hard Brexit' will shatter our economy, jeopardise investment, and hit the poorest hardest. We need to protect jobs by staying in the Single Market."

IAN BOND (UKIP)

"I am a 30-year-old married father-of-four who has just completed the third year of my law degree, and will be starting a master's degree in the new academic year.

"I am standing for UKIP in this election as I feel Oldham needs an MP who will focus on Oldham and Saddleworth and do what is right, not spend their time towing the party line to improve their career prospects. Oldham needs an MP who is willing to talk about the issues other MPs avoid.

"Electing a UKIP MP would be a boost for the area, as it would put Oldham on the map. It would be an opportunity to highlight the deprivation in the area and attract the investment we need to improve the lives of everyone living here.

"If elected MP, my focus will be on local issues. I will campaign against the Greater Manchester Spatial Framework and bring in Direct Democracy, allowing local people to decide on local matters. I want to be your voice in Parliament, representing your views."