Final countdown
Reporter: Lucy Kenderdine
Date published: 08 June 2017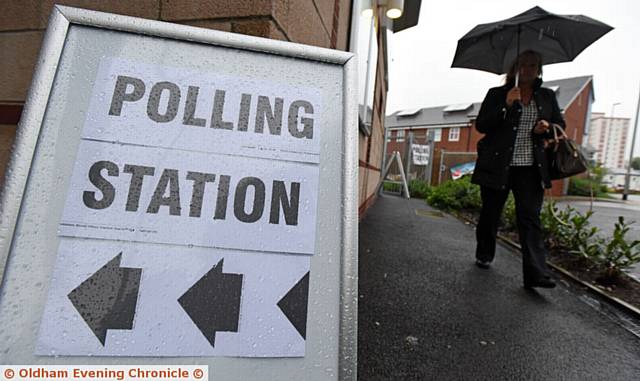 General election day. Polling station at Crossley Centre, Chadderton
OLDHAM has been going to the polls to choose their local MPs in today's general election.

Polling stations opened across the borough at 7am and will remain open until 10pm.

Despite the rain, people were already turning out to vote at Crossley Centre in Chadderton within moments of the polling station opening.

Labour currently holds all three Oldham Parliamentary seats - Oldham East and Saddleworth, Oldham West and Royton and Ashton which includes Failsworth.

Debbie Abrahams will be fighting to retain her seat in Oldham East and Saddleworth, battling against Kashif Ali (Conservative), Ian Bond (UKIP) and Jonathan Smith (Lib Dem).

In Oldham West and Royton, Jim McMahon is hoping to keep his place. He is being challenged by Christopher Glenny (Conservative), Garth Harkness (Lib Dem), Adam King (Green Party) and Ruth Keating (UKIP).

In Ashton and Failsworth, shadow education secretary Angela Rayner will be defending the seat for Labour. Other candidates in the constituency are Carly Hicks (Lib Dem), Andy Hunter-Rossall (Green Party), Maurice Jackson (UKIP) and Jack Rankin (Conservative).

Voters in Royton North will also be able to vote in an Oldham Council by-election, triggered by the death of long-serving councillor Tony Larkin in March.