Three-year sentence for spice dealer given a second chance
Date published: 28 June 2017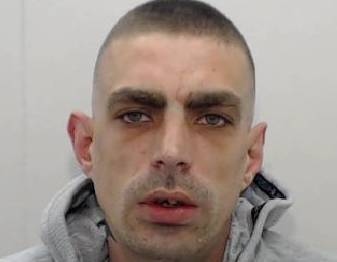 NICHOLAS DODD
AN OLDHAM couple has been sentenced after a crackdown on 'spice'.

Nicholas Dodd, 29, of Hillside Avenue, pleaded guilty to being concerned in the supply of spice and possession of cannabis and was jailed for three years at Manchester Crown Court, Crown Square, yesterday.

Kady Dodd, 27, of Hillside Avenue, pleaded guilty to allowing her premises to be used for the supply of spice and possession of cannabis and received 14 weeks in prison, suspended for 12 months.

The court heard Nicholas Dodd ran a spice dealing hotline for desperate addicts from the home he shared with five children.

Kady Dodd manned the phone and passed orders to her husband.

On April 26, officers from GMP's Challenger Manchester and City of Manchester teams executed a warrant at the Hillside Avenue property as part of a crackdown on spice dealing in Manchester city centre.

A fruit bowl filled with the synthetic smoking material was found in the living room. Four of the children were present in bedrooms at the time. Debtors lists, scales and snap bags used by Dodd for the business were all recovered from the property.

Dodd was caught dealing in Piccadilly Gardens last December, but given a suspended sentence earlier this year after telling the court he had five children - four of his own and one of Kady's - to look after. But, straight after being spared jail, Dodd went back to selling the psychoactive substance, this time in the Oldham area.

Spice was classified as a class B drug under the Misuse of Drugs Act last December.

Use of the drug in Manchester city centre has left scores of people likened to "zombies" and also passing out.

Detective Inspector Paul Walker, of Challenger Manchester, said: "Today's sentencing demonstrates our absolute commitment to tackling the issue of spice in Greater Manchester. We will continue to work with the people of Greater Manchester and our partners in the NHS to rid our streets of drugs, as well as to support those who find themselves as users and addicts.

"If you deal spice, or any other drugs, you won't get away with it - you will be dealt with and could end up behind bars."