Manic episode 'caused killing'
Reporter: Jacob Metcalf
Date published: 28 June 2017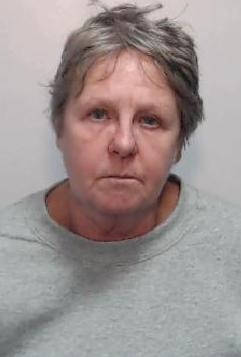 BEHIND bars . . . Lesley Culley
A WOMAN who was suffering a "manic episode" when she stabbed her husband to death days before their 30th wedding anniversary has been jailed.

Lesley Culley (58) lost control when her husband moaned that the bed hadn't been made. She stabbed him in the chest at their flat on Unsworth Way, Oldham, on December 8, 2016.

She was jailed for six years at Manchester Crown Court yesterday after pleading guilty to manslaughter caused by loss of control.

On the day of the incident she had been drinking with her husband, Anthony Culley (56), at The Old Bank pub, Yorkshire Street, in the afternoon.

She had stopped to drop off food at the pub where they were due to have their 30th wedding anniversary 11 days later and was met by Mr Culley for a drink.

After leaving the pub at around 7.15pm, police were called to their flat by Mrs Culley saying that her husband had had an accident.

When they arrived they found him in a pool of blood in the living room with Mrs Culley locked in the bedroom down the hall, curled up in a corner sobbing.

Argument

Mr Culley had a 20cm stab wound to his chest which had cut through his ribs and punctured his heart.

During a police interview Mrs Culley remembered having an argument with him when leaving the pub and said he had become aggressive when he found the bed hadn't been made at home, but couldn't remember anything between then and being put into the police van.

Psychiatric reports stated that Mrs Culley was in a manic episode and unable to control herself during that time and she had developed a fear of her husband due to domestic issues, particularly when they argued. As part of the episode she would show erratic behaviour, mood swings and would go on spending sprees.

Mr Culley was Lesley's second husband and the problems began seven years after they moved to Cyprus in 2004 when her first son suffered a life-changing injury in a car accident, nine months after her second son had died in tragic circumstances.

She became depressed and attempted suicide in 2011.

A year later she was detained under the mental health act as well as being diagnosed as bipolar.

During the manic episode which resulted in Mr Culley's death she had developed a fear of violence from him, although there was little evidence to suggest he was actually violent, Judge Mansall QC said.

Violence

One incident in September, 2016, saw paramedics attend the home to find Mr Culley with a stab wound to his shoulder.

As a result of the incident, Mrs Culley had suffered bruising to her arms, legs, and face, but this was a small show of violence to her and it was unclear whether it was in self defence or an assault, Judge Mansall QC added.

He said the trigger for his death was the fear she had developed of him over time, not of violence from him.

He said: "The qualifying trigger was not things done by him but in this case a fear of serious violence at the hands of him by the defendant.

"You believed a threat, particularly when he argued with you when he had had a drink.

"I accept also that he must have assaulted you on September 25 when you had bruising on your legs, arms and face.

Threat

"Given the fact you were in a manic episode, what matters isn't whether he was violent or for how long.

"It was what was in your mind and what threats you perceived he posed to you.

"Anthony Culley probably presented little, if any, violence ­- but I am satisfied that you perceived a threat of violence from him on that night.

"You made a conscious decision to fetch a knife and struck him a deliberate, forceful blow which went through his ribs and punctured his heart.

"The wound on his forearm also showed that he had attempted to defend himself.

"I take into account the spontaneity of your actions.

"You clearly had no intent when you were at the pub.

"You immediately rang the emergency services and stayed with him and you are clearly remorseful."

After the hearing, senior investigating officer Terry Crompton, of GMP's Major Incident Support Unit, said: "Lesley Culley has pleaded guilty to manslaughter on the grounds of loss of control.

"This defence has been supported by a number of psychiatric assessments.

"Whatever the sentence, it will not bring Anthony back.

"This was a tragic loss of life and our thoughts are with Anthony's family."