MP joins campaign against austerity cuts
Reporter: Lucy Kenderdine
Date published: 04 July 2017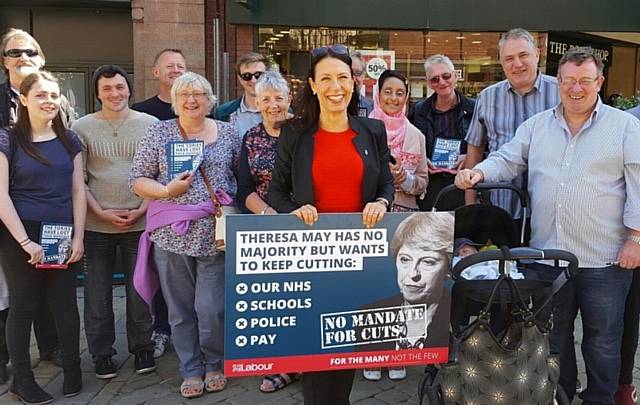 DEBBIE Abrahams MP set up a stall in Oldham town centre as she took part in the Labour Party's national day of campaigning against Government cuts
OLDHAM MP Debbie Abrahams joined in a national campaign day against Government cuts this weekend.

The MP for Oldham East and Saddleworth, set up a stall in Oldham town centre as she took part in the Labour Party's national day of campaigning against Government cuts.

Mrs Abrahams, who is also Shadow Work and Pensions Secretary, was joined by local party members at the event on Saturday.

She said: "This government has no majority and no mandate for its planned cuts to police, the NHS, schools and wages.

"That's why I'm out with Labour members from across Oldham meeting people as part of our national campaign day in which we're taking the fight to the Tories and setting out Labour's alternative to their ideologically driven austerity cuts.

"This week, the Tories had the opportunity to end cuts to our police and fire service and lift the Public Sector Pay Cap by agreeing to our amendments to the Queen's Speech. They didn't take it.

"Although government ministers say they have learned the lessons of the General Election and are listening to voters, it is clear that nothing has really changed.

"Now it seems the Tories have found £1bn, to secure the DUP's support, it's back to business as usual for them.

"Obviously money can be found when the Tories need it to keep themselves and Theresa May in office.

"But the rest of the country, including Oldham now faces more devastating cuts to our emergency and other vital services. Oldham Council has already lost approximately half of their budget since 2010, and there's more pain to come.

"Theresa May is right to praise our public services when they come to our rescue, as they have so often in recent months, but she's not so quick to find the money to reward their hard work.

"The Tories will keep working for a privileged few and only Labour is ready to form a government that will work for the many."