Calls to end arms exports to Israel
Reporter: Jacob Metcalf
Date published: 06 July 2017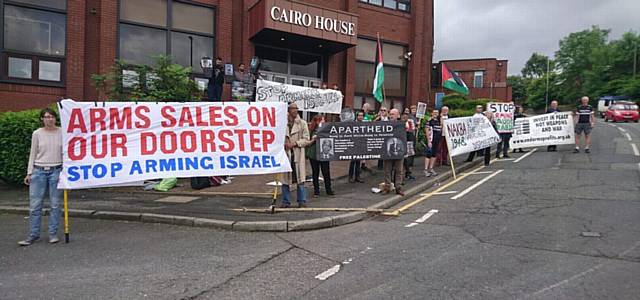 PROTESTERS gather outside the factory
MEMBERS of Manchester Palestine Action protested outside of the Ferranti factory in Waterhead.

The demonstration saw protesters block the front doors of the factory as they called for it to end arms production and called on the UK to end arms exports to Israel.

The demonstration, on Monday, formed part of Stop Arming Israel week which runs July 1 and ends on Friday, marking the third anniversary of Israel's 2014 attacks on the Gaza Strip.

As well as blocking the door, the protesters held up banners calling for the end of arms production, they laid small coffins with pictures of those who have died in the conflict and wrote 'Free Palestine' in chalk on the steps of the factory.

The factory is owned by Israeli's largest arms manufacturer, Elbit Systems, who manufacture drones, systems for military aircraft, armed remote control boats and military land vehicles.

Elbit Systems owns four factories in the UK with plants in Tamworth, Staffordshire, Broadstairs, Kent and Shenstone, Staffordshire with the Manchester Palestine Action group planning to protest outside the latter on Thursday.

Adie Mormech, of Manchester Palestine Action, said: "Ferranti Technologies is owned and run by Israeli arms dealer Elbit Systems, who make drones that have killed thousands of Palestinians.

"They make guidance systems and spare parts for Elbit drones and other military equipment.

"When you make profit from selling weapons for use on a civilian population, like those in Gaza, you are complicit in the carnage and mass murder that takes place there."

Adie spent two years in Gaza, where he experienced Israel bombing Palestinians during eight days in 2012, teaching children who had lost 29 members of their extended family as their town was bombed in 2009.

In the summer of 2014 he sadly lost two of his students when Israel's bombing killed 2200 Palestinians including 500 children in 50 days.

He said: "I was speaking to a friend on facebook, and a week later her friend told me she was killed by a drone, of which nearly all are Elbit manufactured.

"Her two little children, her husband and mother in law were all killed by the same bomb.

"Drones were almost always in the sky, terrifying the lives of Palestinians in Gaza, as part of Israel's brutal siege and decades-long military occupation of the Palestinian people.

"They are being violently forced off their land, regularly bombed and those that remain are treated, according to Archbishop Desmond Tutu who has been to Palestine, worse than the blacks in South Africa were under Apartheid rule." Adie said.

"Yet these UK factories are profiting from selling these weapons that we know are killing so many children, and helping to set the Middle East ablaze.

"It's like gun running only with thousands killed and tens of thousands injured, with children bearing the brunt."

Ferranti declined to comment.