Panda's pride at improved rating
Reporter: Beatriz Ayala
Date published: 06 July 2017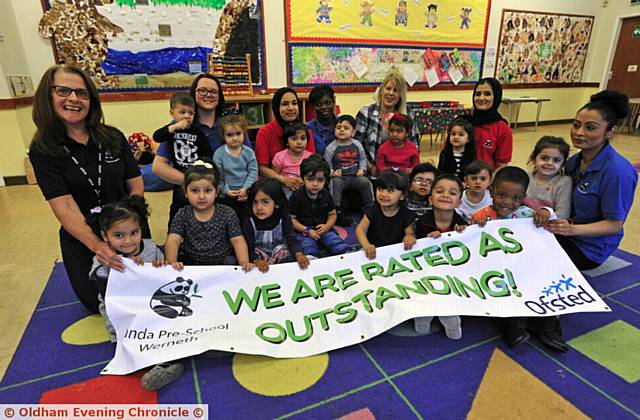 THE Panda Pre-School at Christ Church, Chadderton, has received an Outstanding rating. Pictured with children and staff is manager Joyce Marsh, left
AN OLDHAM pre-school is celebrating after boosting their Ofsted rating from good to the highest possible rating of Outstanding in all areas.

Panda Pre-School, based at Christ Church Community Rooms, Block Lane, Chadderton, is managed by the Werneth and Freehold Community Development Project, a charity that has worked in the borough since 1991.

Opened in January 2000, it is a not for profit preschool with any revenue generated re-invested back in the work of the charity.

Open term time Monday to Friday from 8.45am until 11.45am, the project also manages two other preschools based in Werneth Hall Road, Coppice, and another in Broadway, Chadderton.

OFSTED inspectors, who visited the pre-school in May, said children thrived and had a wonderful time in an extremely safe, secure, stimulating and well-resourced environment.

The report said children made rapid progress and developed an "excellent range of skills, abilities and attitudes that prepares them extremely well in readiness for school."

Children were seen to be happy, well settled and demonstrated high levels of independence.

And all children consistently made high rates of progress including those with special educational needs or disabilities and those who speak English as an additional language, with some achieving beyond expected levels of development for their age.

Inspectors felt manager Joyce Marsh, who has worked at Panda for 17 years, was truly inspirational and led her well qualified team with "superb efficiency and admirable enthusiasm".

The report said: "The extreme hard work, commitment and dedication of staff has been instrumental in helping to raise the quality of practice to an outstanding level."

Staff accurately observed and assessed children's play to plan activities for future learning, and each child's interests were taken into account.

Inspectors rated staff members' ability to ensure children stayed safe as outstanding, with the team praised for clearly understanding what to do if welfare concerns arise and the pre-school congratulated for its focus on continuous professional development.

Project coordinator Yvonne Burtonwood said she was delighted with the report and proud of her staff.

She said: "It is pleasing to read that the inspector recognises the outstanding quality and standard of work at Panda Preschool.

"And importantly, they recognise that all children make consistently high rates of progress."