Masterplan gains the green light
Reporter: Lucy Kenderdine
Date published: 11 July 2017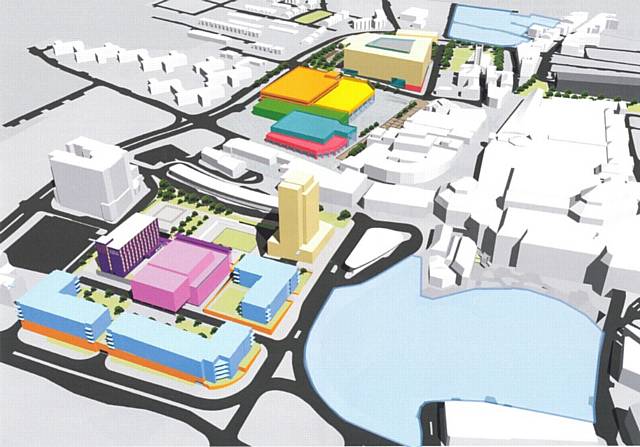 HOW Oldham town centre could look under the masterplan.
A TRANSFORMATIVE masterplan for Oldham's town centre has been approved by cabinet members.

The masterplan aims to remodel to town centre and redevelop key "under-used or not fit for purpose sites" across 21 acres in the town centre.

Included in the ambitious proposal, which looks ahead to 2035, are plans to close the current civic centre and create a new public sector civic hub at the former Oldham Sports Centre site.

Tommyfield Market could also be demolished and a new, improved market erected on the existing site, alongside a 600-space capacity multi-storey car park and retail/leisure unit.

Refurbishment of the Queen Elizabeth Hall, a new hotel and several new residential areas at the current civic centre, former Magistrates' Court, Oldham Police Station, and Rock Street car park are also proposed.

The masterplan, described as the "biggest forward planning exercise we've ever had for the town centre" by council leader Jean Stretton, could create an estimated 560 full-time jobs during construction, plus up to 700 new operational jobs in Oldham, if all elements are delivered.

It could also see economic activity worth an additional £50m per annum to Oldham's economy.

Councillor Stretton said: "This masterplan seeks to renovate Oldham town centre to match the local authority's aspirations for it to be a vibrant town centre."

She added that the improvements to the Tommyfield market site would take priority in the masterplan.

Councillor Stretton also outlined the need for a new Oldham civic hub and stated: "It would cost £87 million over the next twenty years just to heat, light and continue to maintain the current civic centre.

"These buildings are not fit for purpose going forward.

"We can have a much more sustainable option."

Councillor Stretton also urged residents to have their say on the proposals when they enter a public consultation period, which is expected to last 12 months. She added: "This is a massive undertaking and it is not something that the council can undertake on its own and we will be seeking appropriate partners to bring this to fruition."

Councillors agreed to endorse the masterplan in principle and progress to examine routes to market for the redevelopment.

An initial revenue allocation of £200,000, representing a fees budget for the next stage of work, has also been approved.