Ukraine war rebel jailed for terrorism
Reporter: Jacob Metcalf
Date published: 17 July 2017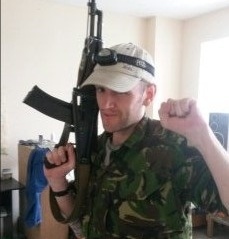 BENJAMIN STIMSON . . .taking up arms in the Ukraine
AN OLDHAM man who travelled to the Ukraine and joined Russian-backed rebels against the government has been jailed for terrorism offences.

Benjamin Stimson (41), of Oldham, who pleaded guilty to assisting others in committing terrorism acts, is the first British man to have been charged with offences relating to the Ukrainian conflict, which saw Russian-backed rebels fight against the government.

Stimson left for Moscow, Russia, on August 8 2015 where he met contacts and travelled to the Donbass region conflict zone in Ukraine where he joined the rebels.

Manchester Crown Court heard that Stimson, who was jailed for five years and four months with a further year on licence, had intended to escape his life in the UK and carry out humanitarian work in Donbass driving ambulances.

But when he became ill in hospital, he found himself in barracks and became indoctrinated into the militia for reasons he struggles to articulate, the court heard.

Stimson, who had posted pictures of himself holding an AK47 machine gun on social media, took part in a BBC interview whilst at the frontline, in which he said he would kill if his life was threatened and would class that as an act of war.

However, during his time at the front he took no part in fighting, as there was a ceasefire and Stimson regretted going, although he didn't make arrangements to leave until November 2015.

Upon his return to Manchester Airport on November 23, Stimson was arrested on suspicion of terrorism offences. His luggage contained a military uniform, some of which bore the would-be flag of Novorussia.

He had carried out extensive internet research on the conflict, with particular interest shown to the army of Novarussia and had applied for a Russian visa.

Sentencing David Stockdale QC said: "You ultimately did no physical harm to anyone but you assisted the militia by your presence and your involvement. I accept you do not hold extremist views and you have expressed your regret for your actions."

He said: "There is no evidence that you actually engaged in combat. On the contrary there is evidence that your presentation as a fighting man was in large part an exaggeration on your own part," he added.

Following sentence, the defendant's father, Martin Stimson, described the sentence as 'very severe'.

He said: "It's plain, and the court accepted, that Ben went out there for humanitarian reasons to drive an ambulance. And the court also accepted that Ben is no danger to society."

Detective Chief Superintendent Russ Jackson, head of the North West Counter Terrorism Unit, said: "This case demonstrates the complex work the counter terrorism unit does to stop those who commit acts of terrorism - at home or abroad. I hope his conviction will send a message to all those who are considering joining conflicts."