A successful run of sports development
Reporter: Lucy Kenderdine
Date published: 21 July 2017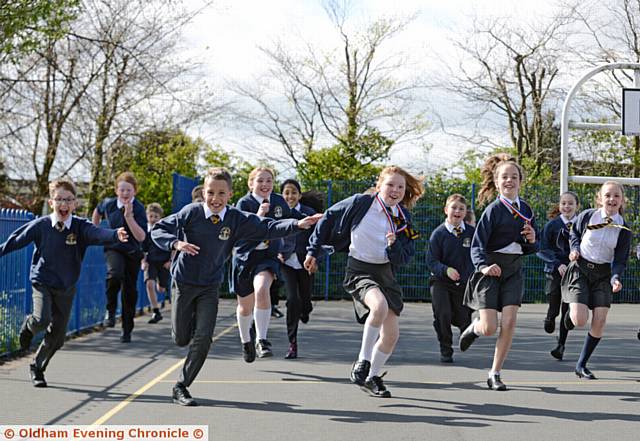 ON the run . . . Youngsters from St Anne's Primary School, Lydgate, run for 15 minutes every school day as part of the Daily Mile initiative
OLDHAM Sport Development is celebrating a successful year which has seen it deliver PE and sport to more than 15,000 young people across 70 schools.

In its annual year review, Sport Development details the successes of the past 12 months along with new programmes, activities and events.

Between 2016 and 2017, it delivered 200 extra-curricular clubs every week and had more than 2,500 children attend events, including Celebration of Dance, Dance Splash and the annual Ability Roadshow.

The Daily Mile initiative, which sees pupils include a mile of walking, jogging or running in their daily routine, has now been rolled out in 20 schools in a bid to improve children's health in the borough.

Dance events, such as Celebration of Dance and Dance Splash, have also been enjoyed by young dancers, with high standards and talent displayed across all disciplines and groups.

The Oldham Primary Schools Health Champions programme, now in more than 40 schools, has also seen successes, with pupils and teachers involved in the initiative coming together to share their experiences and promote healthy lifestyles during an event at Chadderton Town Hall.

Oldham Sport Development's Ability Roadshow 2017 was again a resounding success as 260 children with a disability or additional need attended one of the four roadshows.

The children came from 41 schools and took part in activities such as archery, football and race running.

In September, Sports Development is looking forward to the launch of its PE Teacher Training Programme, which aims to ensure current teaching and non-teaching staff continue to gain skills to deliver high-quality PE lessons in Oldham.

The programme covers several aspects to promote a holistic approach to child development through Physical Education.