GP patients at risk of harm
Reporter: Rosalyn Roden
Date published: 24 July 2017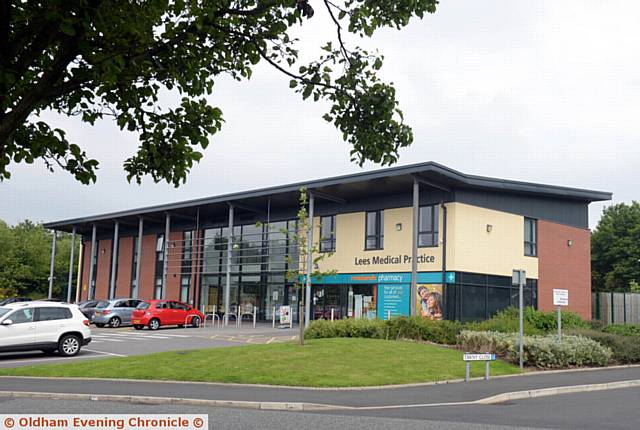 Lees Medical Practice, Lees Oldham
THE Government health regulator rated a Lees GP as inadequate after patients were found to be "at risk of harm."

Out-of-date syringes, and a failure to carry out checks on staff and prioritise health and safety, were listed by the Care Quality Commission (CQC) as key concerns.

Lees Medical Practice said it was "disappointed" with the overall rating but pledged to "turn this around" by implementing procedures and processes with the support of Oldham Clinical Commissioning Group (CCG). The Athens Way surgery received a "good" rating for its care provision but was told responsiveness required improvement and safety, effectiveness and quality of leadership were all inadequate.

The practice has been placed in special measures and will be inspected again within six months by which time improvements are expected to have been made.

Chief inspector of general practice, Professor Steve Field, said: "Patients were at risk of harm because, for example, health and safety was not a priority, not all fire safety checks were carried out and not all recruitment checks had been carried out on staff before employing them. Risks to patients were not always fully assessed and well-managed in areas of care planning and hospital admissions.

"End-of-life care was not effectively co-ordinated. This had been recognised and the practice nurse was introducing a new system."

The report was released in relation to an announced inspection at Lees Medical Practice on April 21.

One GP told inspectors they would ask a 16-year-old to return with a parent if they attended alone and requested contraceptive advice.

However, the practice said there had been "a misunderstanding" as they would not refuse patients under 16 and had submitted evidence to this effect to the CQC.

Inspectors found some items, such as syringes and cleaning fluid, past their expiry date.

While the practice said it "should not have had" these expired syringes, it said they would not have been used without checking the expiry date and added: "We do not use expired cleaning fluid."

The well-led category was rated as "inadequate", with inspectors finding staff training was "not well monitored."

However, the care provision was rated "good", with the CQC adding that "patients said they were treated with compassion, dignity and respect."

Under the CQC's inspection programme, all of England's GP practices are given an overall rating based on whether they are safe, effective, caring, responsive and well-led.

Other comments included that patients were positive about their interactions with staff and could access information should they need to make a complaint though there was no evidence of "learning from complaints."

The CQC praised the GP's "good facilities" and said it was "well-equipped" to treat patients and meet their needs.

Lees Medical Practice said in a statement: "We were extremely disappointed by the overall inadequate rating, however we were rated good for caring.

"We will turn this round and ensure proper procedures and processes, which were deemed to be lacking, are put in place with the support of the CCG.

"We will continue to provide excellent clinical care to all our patients."

Dr Naresh Mistry added: "District and Macmillan nurses have not been able to attend a number of our monthly end-of-life care meetings, hence the negative impact on the CQC report.

"Clinicians do document management plans in consultations, including discussions involving patients and relatives.

"We have submitted action plans to the CQC and we are confident that further inspections will have a positive outcome."

The practice has been placed in special measures to "give people who use the service the reassurance that their care should improve" and will be kept under review.