Martin, 22, is youngest Rotary club president
Reporter: Sam Cawley
Date published: 26 July 2017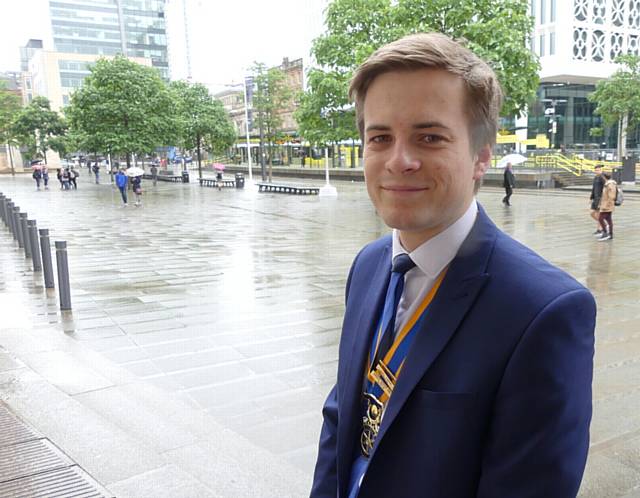 YOUNGEST ever president . . . Martin Judd
AN Oldham man has become the UK's youngest ever president of a Rotary club.

Having recently turned 22, Martin Judd is also believed to be the youngest serving Rotary president in the world.

Mr Judd, originally from New Zealand and now living in Hollinwood, works for Waitrose at Manchester Piccadilly and is studying for an Open University degree in economics and mathematical sciences.

He is among the youngest presidents in the Rotary's 112-year international history.

He is a member of the Manchester Trailblazers Rotary club, which has broken the mould and gone against the organisation's elderly image by electing the UK's youngest president.

Manchester Trailblazers is the latest of the city's three Rotary clubs. It was formed four years ago and meets every Thursday evening at the St James Club, Manchester.

Mr Judd said: "Rotary is often thought of as a club for older men but this is just not true. So the idea of breaking the mould and helping to change the image appeals to me a lot."

Furthermore Martin's 18-year old girlfriend Nicole Harris is the newest Trailblazers recruit, making her the youngest female Rotarian among the UK's 50,000 members.

Mr Judd added: "Age has become a big issue in Rotary because the average age of a UK Rotarian is 72. So the pressure is on to generate the next generation who can take our international network into the future. Without younger members the proud history of this great humanitarian voluntary organisation could grind to a halt."

Mr Judd was born in New Zealand, the son of a racehorse trainer, and moved to the UK permanently in 2012.

It was in New Zealand that he became interested in Rotary when school friends joined a sponsored youth exchange group to Brazil. In 2014, he joined the newly formed Manchester Trailblazers and was elected president nominee within a year.

His targets for the club during his presidential year are to raise membership, boost the charity fundraising programme and launch his own personal education and literacy projects.

For more details see www.rotarymanchestertrailblazers.org.

Rotary International dates back to 1905 and was formed in Australia. It now covers over 200 countries and has 1.2 million members.