POSITIVE mental attitude
Reporter: Robbie MacDonald
Date published: 27 July 2017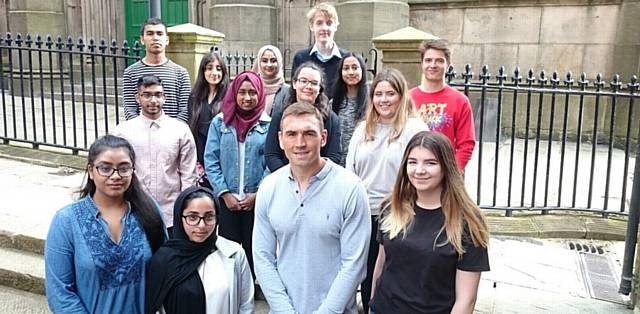 INSPIRATION . . . Kevin Sinfield at Debbie Abrahams' summer school
RUGBY legend Kevin Sinfield and Chronicle business editor Robbie MacDonald were among the speakers at the latest community summer school for youngsters run by MP Debbie Abrahams.

This annual two-week event is designed to help young people develop their experience and skills of community, volunteering and campaigning activity with a range of organisations.

It includes a week of activities at Parliament in Westminster, where Oldham youngsters meet politicians, researchers and advisers, and a second week of events held in Oldham.

The project aims to cater for the many youngsters who approach the Oldham East and Saddleworth MP, asking for work experience.

The sessions held in Oldham features a variety of speakers from backgrounds including sport, community groups, campaigning, communications and politics.

Oldham-born Sinfield was one of the guests who explained his life and career to the youngsters.

Attitude

The former England captain said: "Attitude is the one thing you can control every single moment of the day.

"And it's infectious. If you come in with a spring in your step and a smile on your face, it rubs off.

"If you get that right for what you want to do in life, you'll be a success. I'm sure of that."

John Ramsden, the press officer for Debbie Abrahams, spoke about his work with the local and national media.

His career history has included working in public relations and press office roles for organisations including the BBC and Liverpool City Council.

Business editor Robbie highlighted the need to write and communicate in different ways to different audiences across print, broadcast and digital media, and the importance of planning and meeting deadlines.

Then the youngsters had to plan their own publicity campaigns aimed at getting more young people to register to vote.

One group included Runeka Rahman from Chadderton, Asima Kousar from Glodwick, Aleesha Hussain from Rochdale, Joseph Anchor from Moorside, Alex Jones-Casey, Azim Uddin from Glodwick and Rowena Jones from Saddleworth.

Their plan of publicity activity including social media hash-tag phrases and events hosted by personalities including Brian Cox and Sinfield.

Tour

The group also identified potential venues for events aimed at young people including the Coliseum Theatre, Jackson's Pit, Alexandra Park and Oldham Sixth Form College.

Furthermore, they proposed creating a virtual reality video tour of the 'polling station experience' and using the UCAS university admissions system to encourage youngsters to register to vote.

The second team included Sanah Ahmed from Coppice, Megan Riley from Springhead, Tahmena Hoque from St Mary's, Mohammed Rahman from St Mary's, Farah Ehsan from Shaw and Jasmine Ormrod from Moorside.

Their ideas included a festival with wi-fi technology activity, discounts and other incentives to encourage people to register.

Research into young people's opinions, a newspaper advertising campaign, a shuttle bus with karaoke to take young people to a conference about politics and voting, and T-shirts with slogans were also discussed.