It's blooming judgement day
Date published: 01 August 2017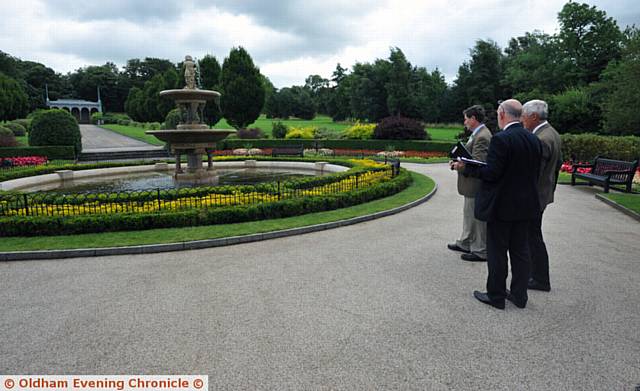 Photo: Anthony Miller
Britain in Bloom judging in and around Oldham. Pic shows the judges in Alexandra Park.
OLDHAM is now eagerly awaiting the results after giving Royal Horticultural Society (RHS) judges a scenic tour of the town.

The borough is one of 78 finalists competing for the coveted Gold award in this year's national Britain in Bloom competition.

The judges' tour yesterday took in areas including the Saddleworth villages, Austerlands, Waterhead and Oldham town centre.

Each finalist will be awarded a Gold, Silver Gilt, Silver or Bronze medal when the results are announced at the Britain in Bloom awards ceremony in Llandudno, North Wales, on October 27.

There's also an award for being the best in category as well as special discretionary awards for achieving excellence in particular areas, including involving children and young people, gardening in a changing climate and overcoming adversity.

And Oldham is also entered into the Champion of Champions category thanks to its outstanding work in the past years. There are only six other places competing in that category.

Oldham Council said the nomination is all down to the long-standing co-operation between its staff, volunteers, residents and businesses who have worked together over the years to achieve success.