Sign petition to help save valleys
Reporter: Rosalyn Roden
Date published: 03 August 2017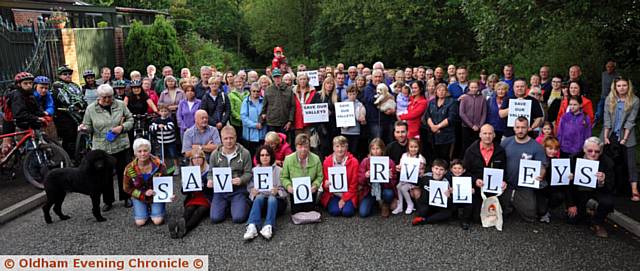 PROTEST against plans to build 265 houses between Oldham Road and Knowls Lane
A COMMUNITY is rallying round to save two "beautiful valleys" bordering Springhead, Grotton and Lees after a 265-property development was proposed.

As part of their latest efforts, more than 250 residents have signed a petition to "stop the destruction" of open space at Thornley Brook Valley and Ashbrook Valley.

The launch of the petition follows Russell Homes' announcement of plans to build 265 family homes, allowing for an as yet unknown number of affordable homes as well as "a significant portion" of public open space.

A new link road would also be created, connecting Lees Road at the junction with Knowls Lane, and Ashbrook Road at the junction with Oldham Road.

But concerns have been raised over the loss of green open space, impact on wildlife, traffic congestion and insufficient infrastructure to support the additional housing.

Some campaigners labelled the proposals as "despicable" and "scandalous" while one Stalybridge resident did not want to see "all the green open countryside become a brick and concrete jungle".

The Save Our Valleys residents' group said in statement: "We must stop this development that will bring increased pollution, noise and chaos to our already busy roads for the best part of a decade and beyond, not to mention destruction of the valley due to the huge amount of landfill required to create the road.

"In addition to highlighting the need to stop this proposed development through social media and starting to raise money, residents have started a Change.org online petition and within less than 24 hours have more than 250 online signatures. We all appreciate the need for more houses but these need to be the right houses in the right location, concentrating on brown field sites and redevelopment of rundown areas first. Taking protected green space is not the solution to the housing problem in this country.

"MPs and the new Mayor of Manchester have said the GMSF should be rewritten to reflect the real needs of the whole of Greater Manchester. They have said as part of the rewrite they will listen to communities and that's what we are asking for now."

Save Our Valleys are also crowdfunding £5,000 to raise money for legal costs, surveys and additional help from experts as they "fight" for the land, which is designated as Other Protected Open Land (OPOL).

Debbie Abrahams, MP for Oldham East and Saddleworth, said: "I have been contacted by constituents about proposals for new homes on Thornley Brook and Ashbrook in Lees and Grotton.

"I attended a public exhibition on the plans where concerns were raised by residents regarding the impact on OPOL and wildlife. I share these concerns and the lack of affordable and social housing included in the plans. It is important we do more to build new homes, but we must ensure they are affordable and that we continue to protect our green spaces. Brownfield land must be considered first."

Russell Homes managing director Andrew Russell previously said: "Russell Homes is preparing a planning application for a much-needed new link road, new family homes and enhanced public open space at a site off Knowls Lane in Lees."

The developers, based in Trafford Park, said the plans would create "265 high-quality family homes, including affordable housing, to help meet growing local demand".

Visit www.change.org/p/sue-hodgkiss-save-our-valleys-stop-destruction-of-our-open-space.