Huge cost to refurbish failed tech college
Reporter: Karen Doherty
Date published: 08 August 2017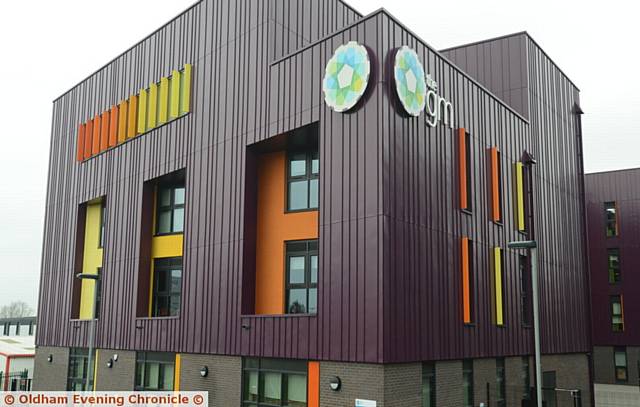 REFURB . . . the GM building in Oldham
TAXPAYERS are spending £350,000 to refurbish Oldham's failed University Technology College (UTC) to help cope with a shortage of school places.

The council is picking up the bill to adapt the £9 million Greater Manchester UTC in Middleton Road but hopes that some or all of the money will be refunded.

About 120 Year 7 pupils who do not have a school place are expected to start at the new building in September, which will be an extension of Oasis Academy Oldham in Hollinwood. But they are expected to include around 20 to 30 who had applied to the failed Collective Spirit Free School in Chadderton which closed last month after an appalling Ofsted report.

The pupils will eventually move to the new free school which Oasis is opening in Breeze Hill, which is expected to be ready in 2020. From next year, part of the UTC will also be used by Oldham College for engineering courses.

Like free schools, UTCs are state-funded and free from local authority control. Oldham's £9 million purpose-built UTC opened in 2014 to provide technical, practical and academic learning for 14 to 18-year-olds but its closure was announced in February after poor results and pupil numbers.

Councillor Amanda Chadderton, Oldham's cabinet member for education, said: "It was not Oldham Council's decision to open or close Collective Spirit ­- it was the Department for Education. But we agree that closing it was the right thing to do. Our role and priority here is the future of Oldham's young people. This might mean we have to invest money to put this right but it is a small price to pay to give these children the education they deserve.

"We have a vacant, state of the art £9million building in our town centre; it would be wrong for us not to consider how we can best make use of this facility.

"The decision has been made for Oldham College to deliver engineering education and training from 2018 in the building which will also be used to provide education facilities for students who do not have a Year 7 place secured for September.

"But to do this the building obviously has to be adapted and so we have agreed to commit £350,000 of capital grant funding to allow work to start.

"However, as this programme has been a shared venture between Oldham Council, the Department for Education and Oasis Academy, we will hold meetings this month to agree final responsibility for the appropriate distribution of costs.

"Most of the work being carried out is to adapt the facility to have general classrooms as well as specialist art and science and home economics facilities and making sure the fire and safety regulations are all in place. It is scheduled to be ready for the start of term."

The council has also agreed to give Oasis £677,131 funding for the 120 Year 7 pupils. Councillor Chadderton said this was expected to come from a reallocation of the Dedicated Schools Grant, the money the government gives councils to fund schools they manage, due to the closures if the UTC and Collective Spirit.