Tragic twist of fate in hunt for lost son
Reporter: Jacob Metcalf
Date published: 09 August 2017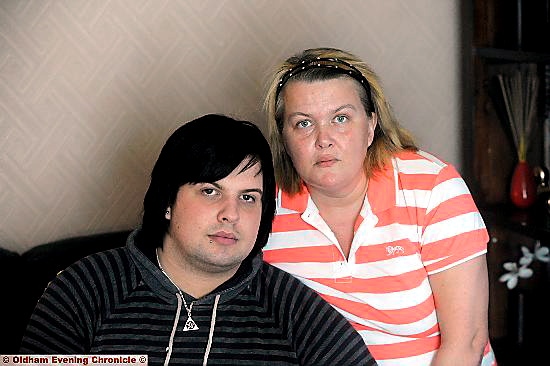 ROYTON man Tommy Nuttall with his mum Ann-Marie Walls who died in February.
A MAN who vowed to never stop looking for his lost brother has sadly died just over 17 months after his mother passed away.

The Chronicle understands that Tommy Nuttall, from Royton, who was found dead at his home on Monday, had suffered from pneumonia.

Tributes were paid to the devoted brother, who after the death of his mother, Ann-Marie Walls, on February 28, 2016, pledged to continue her search for her son, Ciaron Nuttall, who went missing in 2011.

Ciaron was last seen on Cardigan Street, Royton, on March 5 that year.

He is described as white, 5ft 9in with short brown hair and was 18 when he went missing following a short argument with his mother.

His mother never gave up searching for him and Tommy became her carer due to her ill health.

Tragically Tommy discovered his mother lying across her bed at their home in Charcon Walk and an inquest concluded that she had died of misadventure.

As well as the long search for his sibling and death of his mother, Tommy suffered the loss of his nan and the death of his six-month-old sister due to a choking accident.

Friends paid tribute to Tommy on Facebook, describing him as a good friend who was a pleasure to be around.

Julia Ella Jones said: "R.I.P To my good friend Tommy Nuttall, spirit keep you darling. Hopefully our paths will cross again. For now rest easy brother."

Hana Dodarell said: "This can't be real...I can't stop crying, I just can't stop. I can't believe it, we only met the first time last year, after years of talking online. My Evanescence Buddy, my Pagan Brother.

"Merry part, and merry meet again beautiful soul."

Samantha Houghton wrote: "So sad to wake up and hear a friend has passed.

R.I.P Tommy Nuttall You were a true gent, so funny to be around and a pleasure to spend time with. You will be greatly missed." Christina Papahristu said: "Still cant' believe you're no longer with us it's time to defy gravity fly high and join your mum and family so glad i got to know you! Taken way to soon."

A cause of death has yet to be established.