Teamwork helping to tackle litter problems
Reporter: Robbie MacDonald
Date published: 09 August 2017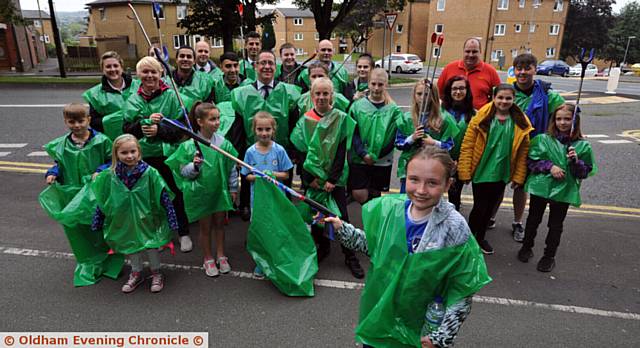 LITTER-PICKERS . . . Libby Howarth (front) with her Oldham Athletic Girls team and Darren Price, from McDonald's, and his staff at the community litter-pick on Higginshaw Road with staff and members of Oldham Athletic girls
A TEAM of volunteers from McDonald's restaurants and Oldham Athletic Girls FC carried out a clean-up on Higginshaw Lane.

Darren Price, McDonald's franchisee, and staff from two restaurants at High Street, Oldham, and in Chadderton joined the girls football team for the activity.

They spent more than three hours picking up litter and sprucing up the area, with the 24 volunteers collecting 20 bags of rubbish along Higginshaw Lane. Mr Price said this is the seventh year of a partnership between McDonald's and Keep Britain Tidy organisation.

The Higginshaw Lane event was one several of McDonald's team clean-ups in the UK as part of Keep Britain Tidy's Love Where You Live campaign, which continues to encourage communities to work together to tackle litter in their area.

Mr Price, who owns and operates the restaurant on High Street, Oldham, said: "I was really proud to see everyone come together and help tidy up Higginshaw Lane. It's a key priority of ours to ensure the local area remains free of litter and an enjoyable place to live, work and visit.

"As a business we understand the important role that we play in making the area a better place."

He said McDonald's restaurants also patrol the streets at least three times a day to collect litter, regardless of its origin. Staff in the UK cover 3,000 miles each week on litter patrols.

Allison Ogden-Newton, Keep Britain Tidy chief executive, said: "McDonald's initiative, together with their commitment to tackling the problem through their litter patrols and their support for Keep Britain Tidy, is an example of how a business can make a difference."

As well as the Keep Britain Tidy events and daily patrols, restaurants have been painting walls and replanting trees and flowers to improve areas.