Chance to win funds at investment event
Reporter: Lucy Kenderdine
Date published: 09 August 2017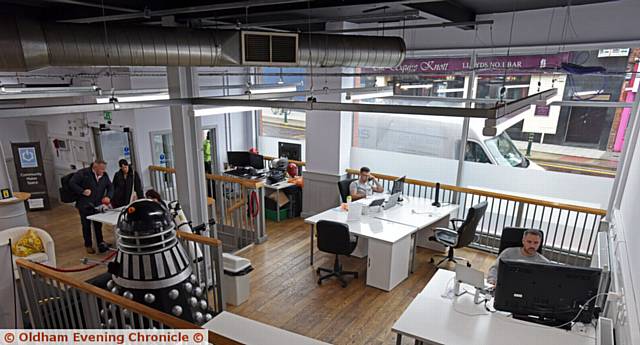 WAYRA UK's Open Future North offices at Digital Hub, Oldham
INNOVATIVE ideas could be in with a chance to win vital funding with the launch of a new crowdfunding event.

"Funded with Food" is an investment event with a difference, where local people are invited to pitch their ideas to the community and be in with a chance of walking away with at least £250 to help make their proposal a reality.

With only one basic form to fill in, four applicants will be selected randomly and given the chance to share their ideas during a four minute presentation during the event.

And for those who want to get involved but do not have an idea to pitch, members of the community can join in with the event by paying a minimum £5 entrance donation in return for a delicious meal by Real Junk Food Oldham and the chance to hear the pitches and vote for a favourite project.

The first "Funded with Food" will take place on September 6 and is supported by the Oldham Partnership including Hack Oldham, Real Junk Food Project Oldham, First Choice Homes Oldham and Action Together.

The idea was first discussed following the announcement of Wayra's Fair By Design project, which will support seven startups per year in a drive to tackle the "poverty premium", where people on low incomes can pay more for some goods and services.

Wayra UK's Open Future North office, the northern branch of Wayra's national support network for technology firms, is based within Oldham's new digital hub on Yorkshire Street and occupies the top two floors above Hack Oldham.

Andy Powell, Hack Oldham Founder, said: "We liked Wayra's idea but as it is such a large scale project, we thought there must be something on a smaller local scale that we could organise and help people in the Oldham community. We looked at different models, including the Mossley Soup project, and came up with the idea allowing people to pitch their ideas and give people the chance to enjoy a meal as well."

He added that the simple process, in which keen participants only have to fill in one form, has attracted a wide variety of different people and ideas to get in touch.

"So many funding streams rely on lengthy and complicated application processes and it can be a barrier to some ideas," Andy said.

"By giving people the chance to pitch to the community we are hoping their passion for the idea will come through as people invest in those that are passionate about their idea.

"We are also leaving the presenting style up to them and pitch in a way that suits them or their idea.

Visit http://hackoldham.com/fundedwithfood.