Former pub set to be demolished
Reporter: Rosalyn Roden
Date published: 09 August 2017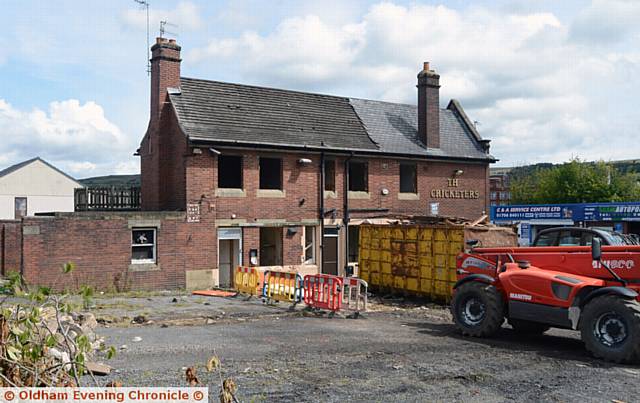 THE former Cricketers Arms, Shaw, due to be demolished
DEMOLITION has begun at a former Shaw pub as developers make way for 10 new properties.

The former Cricketer's Arms will be flattened to allow for eight "much-needed" three-bedroom houses and two two-bedroom apartments.

However residents who remember the public house in its glory days described the levelling of the site as "another nail in Shaw's coffin".

The Milnrow Road pub, known in the mid-1990s as The Moulders' Arms, has stood vacant and boarded up for more than 12 months.

Now Clements Court Properties, who took ownership from Enterprise Inns plc, have plans to build a series of terraced homes on the corner plot, five of which will have en-suites.

A planning application is yet to be submitted to Oldham Council but demolition of the pub will be ongoing for the next three weeks.

Leader of the Liberal Democratic Party Councillor Howard Sykes said: "This has been the site of anti-social behaviour and a blot on the landscape since it closed.

"I have written to the previous owners and also the current ones urging them to develop the site for much needed local housing.

"I am now very pleased to report it is be demolished which should take about three weeks."

Councillor Sykes met with the new owners last week and said they are "keen to work with local councillors and the community."

He added: "It is a refreshing change compared to the usual, which is that you get to know when they submit a planning application."

Oldham Council previously refused plans for a three-storey block of 20 apartments on the site after an application was submitted in July 2016.

It is understood landlord and landlady of The Cricketer's, Alan and Sharon Hamblett, took over from licensee Jed Ward, who owned the pub under its name The Moulders' Arms.

The Hamblett's featured in the Chronicle in November 2003 for organising a 3,500ft parachute jump from a plane which raised almost £600 for Dr Kershaw's Hospice.

The Cricketer's was a stopping point on the annual Shaw and Crompton Parish Council chairman's beer walk.

From murder mystery evenings to becoming an emergency mobile RSPCA clinic, it has hosted a wide range of events.

In 2016, the pub was described as "easily one of the best in the area" due to good management, regular and honest locals and high quality ales.

Resident Julie Hall who lives two streets away said: "I spent many happy hours there in the past with my family and feel it is just another nail in Shaw's coffin. Why couldn't it have been renovated? A very sad time for Shaw and its people."