Sara's Queen's Nurse honour
Reporter: Rosalyn Roden
Date published: 09 August 2017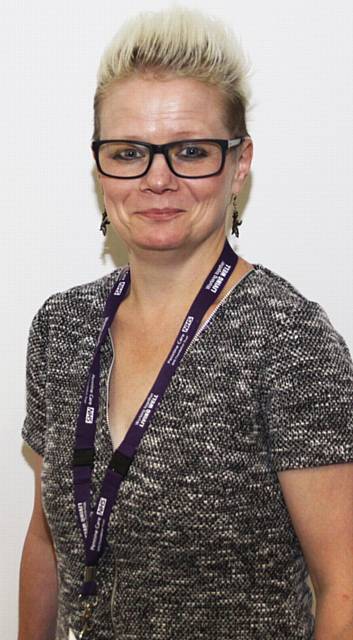 Sara Handley received a Royal seal of approval after being awarded the title of Queen's Nurse
A HEALTH worker has been specially chosen to receive the prestigious title of Queen's Nurse.

Sara Handley, a nurse from Royton, is one of only a handful of nurses nationwide to be awarded the title each year.

In recognition of her commitment to improving standards of care for patients, Sara now holds the official title of Queen's Nurse as given by the Queen's Nursing Institute.

The title honours individuals who provide high quality care, earn patients' trust and respect and who are role models for colleagues.

Sara, who has held several positions in adult nursing since 1998, said: "I feel very honoured and privileged to receive this recognition.

"For me as an experienced nurse in a senior clinical position, sharing my values, knowledge and clinical expertise will support self-confidence in other nurses to acknowledge their skills and development needs.

"I strive to facilitate in others the professional commitment required, which drives our determination to ensure that we address head on the challenges facing our profession today and in the future.

"I joined nursing to make a difference and one must never underestimate the significance of our profession.

"As health and social care changes, what does not alter is the fundamental human need to be looked after with care, dignity, respect and compassion.

"To achieve this, the enduring values of nursing and care must always underpin our work."

Innovation
In her current role as practice development lead with Pennine Care NHS Foundation Trust, Sara works with district nursing services across Oldham to improve standards of care, develop skills and spread innovation.

The Royton nurse has previously undertaken a comprehensive review of district nursing services to improve care delivery and standards.

She has also supported nurses to adopt electronic systems, rolled out a flu vaccination programme to vulnerable patients, and developed a training programme to improve standards in care homes.

Sara's manager Alyson Wadsworth said: "Sara is a dedicated community nurse with an enthusiasm for improving the quality of care.

"In her current role, she remains clinically focused to ensure the support she is providing is up to date and relevant.

"Enhanced with her passion for learning and teaching, Sara is an asset to Pennine Care and has been instrumental in the redesign of district nursing in our borough."