Vow to stop stoning menace
Reporter: Iram Ramzan
Date published: 10 August 2017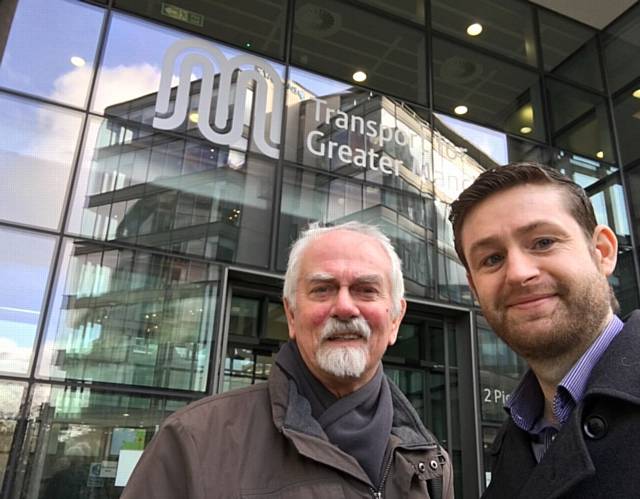 MP Jim McMahon (right) with Chadderton councillor Colin McLaren outside Transport for Greater Manchester offices
CHADDERTON residents could be getting protection close to their homes after a spate of anti-social behaviour at Freehold Metrolink Station.

Residents close to the tram stop have long complained of criminal damage caused by young people using the platform to gain height advantage over passing cars and homes.

Long standing complaints have been made related to the throwing of stones from the track towards passing cars and homes lower down the platform.

Oldham West and Royton MP Jim McMahon met with representatives of Transport for Greater Manchester and Metrolink to see if they could provide additional security and install measures to restrict stones from landing on ground towards nearby homes, including the installation of netting.

Last month, Mayor of Greater Manchester Andy Burnham announced a major investment in the safety of Greater Manchester's public transport system.

The TravelSafe Partnership (TSP), a multi-agency approach set up to tackle and reduce crime and anti-social behaviour on the region's bus and tram networks, will be bolstered by dozens more officers, with an increased staff presence particularly in the evening and at weekends.

TfGM and Metrolink said they are now considering netting or a mesh fence, subject to consultation with the residents.

TfGM's head of Metrolink, Danny Vaughan, said: "Safety and security is extremely important to us. As well as the large team of customer service staff that patrol the network and are supported by police and private security, we have an extensive network of help points and CCTV cameras and we will not hesitate to hand over footage to the police and partners when incidents of anti-social behaviour occur."