Picnic party time on a prized green space
Reporter: Rosalyn Roden
Date published: 10 August 2017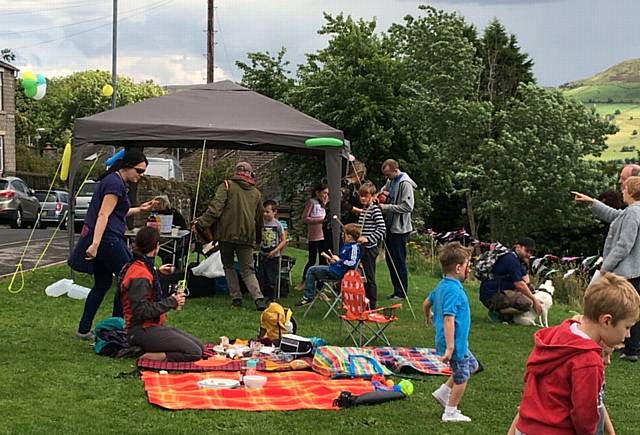 VISITORS to land just off Greaves Street enjoyed the sunshine and scenery while attending Picnic on the Green
A "GIANT" picnic was held in Mossley as residents proved land formerly earmarked for auction was "a much-loved part of the community."

Dozens of residents frolicked and feasted at land just off Greaves Street for the first of many Picnics on the Green.

The green space was one of five pieces of land at risk earlier this year after Tameside Council put it up for sale.

However, following large protests by residents, the plot was withdrawn from auction, along with Cosgrove Gardens.

Greaves Street resident Rachel Downham said: "Picnic on the Green was a real success. Everyone had a good time from having a go on instruments, making giant bubbles, having their face painted, to enjoying dancing from Mossley Morris Men.

"In between a few light showers, when everyone made a beeline for the gazebos, we sat out on the green and enjoyed the sun and stunning views."

Young and old alike took up instruments belonging to Incredible Plastic Street Band - a 30-piece brass ensemble made up of Mossley and Stalybridge schoolchildren.

The group was joined later in the afternoon by Councillor Tafheen Sharif, who represents Mossley ward on Tameside Council.

In true Mossley style, the event closed with a fun sing-song at the community orchard below Greaves Street as residents burst into song in ancient ceremony to bless the growing apples and trees.

Rachel added: "It was a lovely community event which really showed how valued these community spaces are and how important they are for bringing the local community together.

"This would all be lost if the land was sold for development.

"The local community are asking Tameside Council to involve us in the decision-making process and to consider community management of these spaces.

"We are planning that this will be the first of many exciting events to come."