Businesses awarded for excellent services
Reporter: Richard Hooton
Date published: 10 August 2017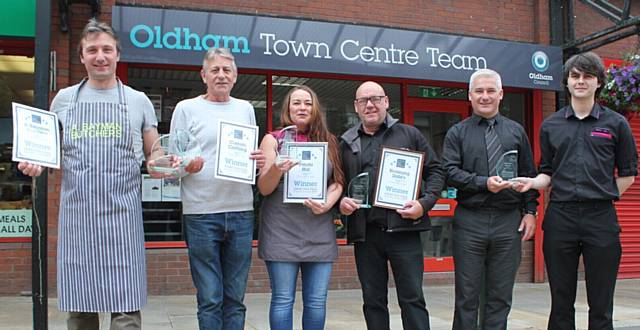 LEFT to right: Anthony Bayman (Bayman Butchers), Howard Maloney (Custom Clothing), Nicola Harkins (Potato Hut), Dale Robinson (Blooming Dale's), Bernie Dullaghan and Mike Kelly (Mecca Bingo)
SUPERB customer service has been recognised at the annual Oldham Town Centre Business Awards.

Organised by Oldham Council and the Town Centre Business Partnership, the awards recognise and celebrate businesses who are looking after residents, shoppers and visitors.

The awards are in the second year of a new format that has seen entrants being evaluated by a mystery shopper.

More than 60 businesses agreed to a visit from an independent customer service expert, who assessed them on venue appearance, products and pricing, initial contact, service, sales and staff image.

The mystery shopper awarded 22 businesses a score of 90 per cent or more - six of which gained a perfect 100 per cent.

The winners, which received either the highest score or full marks in three categories, were:



* Independent Business of the Year: Trinity Hair, 21 Market Place

* National Business of the Year: Mecca Bingo, King Street

* Market Trader of the Year:

* A Bayman Butchers - Units 217 and 220 in the Market Hall

* Blooming Dale's - Henshaw Street Kiosk on the Outside of the Market Hall

* Custom Clothing - Units 183 and 186 in the Market Hall

* Potato Hut - Unit 98 in the Market Hall



Oldham Council Leader Councillor Jean Stretton said: "The Oldham Town Centre Business Awards celebrate the very best of what our traders offer.

"Winners have proved they deliver great customer service and help create a friendly and welcoming town centre for residents and visitors.

"We're pleased that so many businesses took part in the exercise and are pro-actively working with us to improve the whole experience for their customers.

"Oldham is currently undergoing extensive regeneration and good customer service will ensure visitors want to come back again and again. Congratulations to this year's winners. They should all be very proud of their achievements."

Nicola Harkins, owner of the Potato Hut, said: "It's fantastic that our new business has been acknowledged in this way.

"We pride ourselves on delivering top quality jacket potatoes and service that exceeds customers' expectations, so we're delighted this has been recognised."