Concerns raised over food poverty
Reporter: Iram Ramzan
Date published: 14 August 2017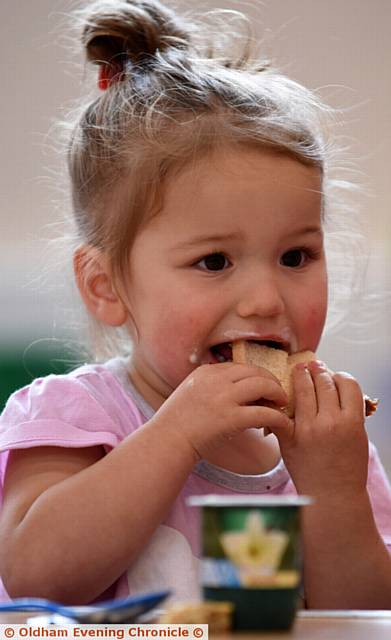 BITE-SIZE . . . Layla Russell enjoying her breakfast
NEARLY 1,000 people attended a breakfast club in Clarksfield in the space of two weeks, raising concerns about food poverty levels in Oldham.

St Barnabas' Church, in Arundel Street, runs its breakfast club in the school holidays, when parents and carers can take their children to play games, make friends and have breakfast.

Community worker Duane Kenneally, from the church, said 991 people had attended the breakfast club at the church in the first 20 days of the six-week holidays.

This comes after Oldham East and Saddleworth MP Debbie Abrahams told the Chronicle last week how she was concerned that thousands of children in Oldham could be at risk of going hungry over the summer.

The Trussell Trust, which runs foodbanks in the UK, released data showing increasing reliance on foodbanks during the summer, with 47 per cent of food parcels going to children of primary school age.

In Oldham there are 7,423 children who are eligible for free school meals.

The St Barnabas club, which started in the Easter holidays, runs Monday to Thursday at no charge, although people can make donations if they wish to. Funding has come from the Church Urban Fund's Near Neighbours Small Grant, as well as some Lottery awards.

Children can enjoy crafts and play games with friends as well having the option of a hot and cold breakfast.

An average of 50 people attend on one day.

Duane said all the people are from the OL4 area and a majority do not even attend the church. A total of 11 volunteers help out.

He added: "Most people said they come for something to do in the holidays.

"Food poverty is a big issue. For some children free school meals can be the most nutritious meal of the day.

"If someone wants to come they can do. I'm not going to embarrass people by asking people their financial status.

"We give them fruit bags to take home. Some people would say 'thank you, I didn't know what we were going to have for lunch'.

"Some are regular people who said they're relying on this as the main way to feed their children.

"I think it's very sad. I really wish there wasn't a need to be here.

"I would still do this anyway for the fun of it and there are nice things for people to do. I wish I wasn't fulfilling a need."

The club is part of the Tesco Bags of Help scheme, which a local community grant scheme where the money raised from the 5p bag charge is used to fund community projects.

At each Tesco store in Oldham, when customers buy their shopping they are given a token to use to make their choice. The project which receives the most votes in its area will receive a grant of up to £4,000, second place receiving up to £2,000 and third place up to £1,000.

The breakfast club's cereals, beans and porridge have been donated by Oldham Foodbank.

Gemma Soar (24) and Jamie Elliott (22) moved from Buxton, Derbyshire, in January to become carers for Jamie's grandparents.

The pair are looking for work, but Gemma is struggling, as she is 26 weeks pregnant.

She said: "We were struggling for a while. We didn't have a cooker or a fridge/freezer. Someone suggested the local church.

"Duane has been our rock. This has been a bit of a life-saver. We get to meet new people, as we didn't know anyone here.

"They helped us get a fridge and cooker. We're just really grateful someone is here to help the community.

"Now we're helping here, we feel we should give back to the community."

Not everyone at the club is struggling financially. Some families find it is a good way to stop children being bored and interact with different groups of people.

Asha Akbar (32) brings her three children Isaac (9), Halimah (6) and Sara (1) so they have something to do in the holidays. They have enjoyed making jewellery and cards.

She said: "I've only been here five or six times. The children were bored and I was looking for activities for them to do. They love it.

"They wake me up early to come here now. It's good for them because there's a mix here and they interact with different people."

The breakfast club is open next week on Monday and Wednesday and Monday to Thursday from the following week until August 31. For more information, call 0161 624 2626.