Residential care boost for autistic
Reporter: Jacob Metcalf
Date published: 24 August 2017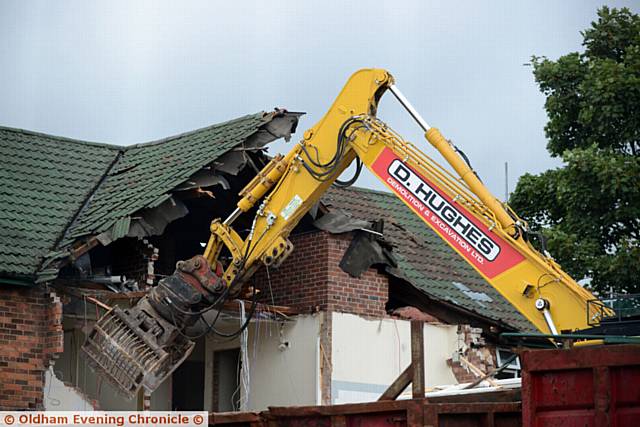 Limecroft Resource Centre and Care Centre, Limeside being demolished.
LIMECROFT Resource Centre will be replaced with Oldham's only care home of its kind after planning permission was granted last night.

The proposal ­- a supported housing development for residents on the autism spectrum ­- will see the demolition of the existing building on Whitebank Road, Limeside, which was a former residential care home.

It will have 20 individual units ­- with the aim of encouraging greater independence for autistic residents ­­- and will also include associated communal areas.

The building ­- given the green light at a planning committee meeting last night ­- will offer a 24-hour care facility for 20 people with the purpose of supporting individuals coming from protected environments. The former care home is currently under demolition. The health and wellbeing directorate of Oldham Council has identified a high demand for such a facility in the borough.

The application, from Adults & Children's Services at Oldham Council, said: "The proposed use would provide a 24-hour care facility for 20 people on the autism spectrum.

"This development would be the only care facility of its kind in the borough.

"The purpose of the proposed use is to support individuals coming from protected environments to encourage greater independence."

The development has been designed sympathetically to match the design of the building it replaces and it is proposed it will have a positive impact on the the street scene as it will match other buildings in the area.

It is also considered to have little impact on the area and would not cause significant overlooking, overshadowing or overbearing to adjacent houses.

The site, which is located in a predominately residential area, has close links to public transport and local services.

It is considered to not generate a significant amount of traffic in the area and because of its car park, will not create a demand for street parking spaces.